Instead of Breakfast burrito...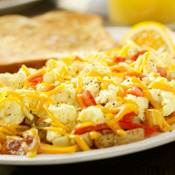 Try This! Breakfast scramble
Simply beat 2 egg whites and 1 egg yolk with the veggies of your choice (try red peppers and onions) for a nutritious and healthy alternative to a greasy breakfast burrito. Mix in 1 tablespoon of low-fat cream cheese for a creamy twist.