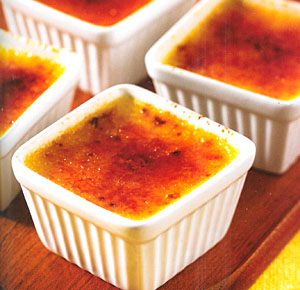 Recipe created by FabFood on

Jan 5, 2008
View more recipes by FabFood.
Prep: –
Cook Time: –
Total: –
Serving: –
Recipe for White Chocolate Caramel Creme Brulee. This creamy dessert has a surprise hint of caramel inside.
Ingredients
4 cups whipping cream
8 ounces white chocolate, chopped
6 large eggs
3/4 cup granulated sugar, divided
2 teaspoons vanilla extract
4 ounces soft caramel candies, cut into pieces
Directions
Preheat oven to 475ºF (190ºC).
In a saucepan, scald cream over medium heat just until steaming and bubbles form around the edge, about 3 minutes. Remove from heat. Add white chocolate and stir until melted.
In a bowl, whisk together eggs, 1/2 cup of the vanilla until blended. Gradually whisk in about 1/2 cup of the cream mixture in a thin steady stream. whisk egg mixture back into saucepan.
Divide the caramels among 12 shallow 4 ounce ramekins or crème brulee dishes. Divide the custard mixture over the caramels.
Place dishes in a roasting pan and pour in hot water about halfway up the sides of the dishes. Bake in a preheated oven, until a knife inserted in the center comes out clean, 30 to 40 minutes. Remove dishes from water and let cool completely at room temperature. Cover and refrigerate until chilled, for 2 hours or for up to 2 days.
Just before serving, preheat broiler (if you have a small kitchen blowtorch you can eliminate this step). Sprinkle remaining 1/4 cup sugar evenly on top of each chilled custard. Using a blowtorch or broiler, brown sugar just until bubbling, about 3 minutes. Serve immediately.
Filed Under:
Puddings and Mousses, Other, Vegetarian, Make Ahead, Kid Friendly, New Year's, Valentines Day, Easter, Mother's Day, Father's Day, Thanksgiving, Christmas, French