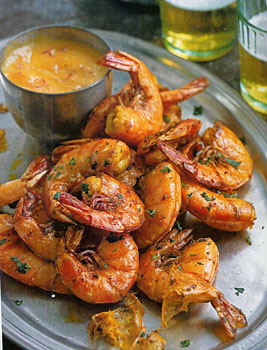 Recipe created by FabFood on

Oct 24, 2008
View more recipes by FabFood.
Prep: –
Cook Time: –
Total: –
Serving: –
Recipe for Weight Watchers' Asparagus and Pea Risotto, an elegant side dish or light main course. This quick and easy to prepare recipe is low in fat, calories and Weight Watcher's points.
Ingredients
1 pound jumbo shrimp, unpeeled
1 tablespoon curry powder
1/2 teaspoon allspice
1/2 teaspoon salt
2 cups frozen mango cubes, thawed
1/4 cup water
2 teaspoons canola oil
1 small red onion, finely chopped
1 tablespoon minced fresh peeled ginger
1 1/2 teaspoons sugar
2 tablespoons finely chopped fresh cilantro
Directions
Hands-On Time: 5 Minutes Cook Time: 10 Minutes
1. Toss together the shrimp, curry powder, allspice, and 1/4 teaspoon of the salt in a medium bowl until the shrimp are evenly coated. Let stand about 5 minutes.
2. Meanwhile, put the mango and water in a blender or food processor and puree; set aside.
3. Heat the oil in a medium nonstick saucepan set over medium-high heat. Add the red onion, ginger, sugar, and remaining 1/4 teaspoon salt; cook stirring frequently, until lightly browned, about 3 minutes. Add the mango puree; bring to a boil, stirring occasionally. Reduce the heat and simmer 1 minute. Remove the saucepan from the heat.
4. Spray a large nonstick skillet with nonstick spray and set over medium-high heat. Add the shrimp and cook until lightly browned and just opaque in the center, about 2 minutes on each side. Sprinkle with cilantro and serve with the sauce and plenty of napkins.
Per Serving (about 7 shrimp and 1/3 cup sauce): 171 Calories; 4g Fat; 1g Saturated Fat; 0g Trans Fat; 161mg Cholesterol; 484mg Sodium; 17g Carbohydrate; 2g Fiber; 18g Protein; 53mg Calcium; 3 Weight Watchers Points.
Filed Under:
Seafood, Shellfish, RV, Quick and Easy, Make Ahead, Kid Friendly, Low Fat, Eating Light, New Year's, Valentines Day, Mother's Day, Father's Day, Diabetic