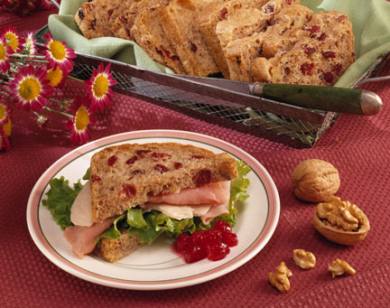 Recipe created by FabFood on

Oct 29, 2008
View more recipes by FabFood.
Prep: –
Cook Time: –
Total: –
Serving: –
Recipe for Walnut Cranberry Grain Loaf. This bread is a combination of sweet and tart crunchy flavors bursting with walnuts and cranberries.
Ingredients
Sponge Starter:
1 cup bread flour
1/4 cup white rye flour
1/2 package fresh yeast
2/3 cup water – lukewarm Bread:
1 package fresh yeast
1/2 cup water – lukewarm
1/3 cup apple cider – lukewarm
1 egg
1.2 cup bread flour
1 teaspoon salt
1 cup whole wheat flour
1/3 cup white rye flour
1 1/2 cups walnuts, roughly chopped
1 cup dried cranberries
1 teaspoon orange zest
Directions
Prepare Starter: In a mixing bowl, dissolve the yeast in the water. Add flours and mix for 5 minutes on slow speed with a dough hook. Let rise for one hour. In a bowl, dissolve the yeast in lukewarm water.
MakeBread:Add the apple cider, egg, salt, flours and sponge starter and mix the dough 6 to 8 minutes on medium speed until fully developed. Add the walnuts, cranberries and orange zest and mix on slow speed until fully incorporated.
Let the dough rise to double in volume, then punch it down and divide the dough into 2 even pieces.
Preheat the oven to 400ºF.
Form each piece of dough into a greased loaf pan. Let the dough rise to its maximum volume, about double in size. Place the loaves in the oven and bake until golden brown and a good crust is formed, approximately 25 minutes. Remove from the pans and let cool on a rack.
Makes 2 loaves (8 slices per loaf, 16 slices total; serving=1 slice) Nutrition information per serving: 184 calories, 5g protein, 17mg cholesterol, 26g carbohydrate, 50mg sodium, 2g fiber, 8g total fat, .7g saturated fat.
Filed Under:
Yeast, Fruit, Vegetarian, Gifts, Make Ahead, Kid Friendly, Low Fat, Eating Light, New Year's, Thanksgiving, Christmas, Diabetic, Freezer Friendly