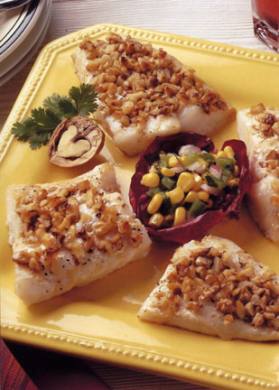 Recipe created by FabFood on

Nov 3, 2008
View more recipes by FabFood.
Prep: –
Cook Time: –
Total: –
Serving: –
Recipe for Walnut Coated Fish Fillets with Corn Salsa. This is an awesome flavorful way to prepare your favorite fish.
Ingredients
vegetable oil spray
1 pound boneless, skinless fish fillets, cut into 4 pieces (Your choice of: Sole, Cod, Tilapia, etc.)
1/2 of a 17-ounce can no-salt-added whole-kernel corn, drained
1/2 cup chopped green bell pepper
1/4 cup chopped red onion
2 tablespoons lime juice
1/2 teaspoon minced garlic
1/8 teaspoon cayenne pepper
1/8 teaspoon salt (optional)
2 tablespoons chopped fresh cilantro or parsley
2 tablespoons fat-free, cholesterol-free mayonnaise
freshly ground black pepper
1/3 cup chopped walnuts, dry-roasted
Directions
Preheat oven to 450ºF. Spray a shallow glass baking dish with vegetable oil. Rinse fillets and pat dry. Set aside.
In a medium bowl, stir together corn, green pepper, red onion, lime juice, garlic, red pepper, and, if desired, salt. Stir in cilantro. Set aside.
Place fillets in prepared dish, tucking under any thin edges. Lightly brush the top of each fillet with mayonnaise. Season with black pepper. Sprinkle with chopped walnuts. Bake 10 to 15 minutes or until fish flakes easily with a fork. Serve with corn mixture.
Nutrition information per serving: 234 calorie, 25g protein, 17g carbohydrate, 55mg cholesterol, 9g total fat, 1g saturated fat, 156mg sodium, 3g fiber.