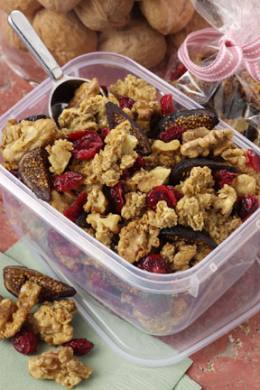 Recipe created by FabFood on

Oct 29, 2008
View more recipes by FabFood.
Prep: –
Cook Time: –
Total: –
Serving: –
Recipe for Walnut Cluster Snack. Clusters of crunchy oats and walnuts baked with tender dried fruit make a great snack on the go.
Ingredients
vegetable oil spray
3 cups quick-cooking oats
1/2 cup oat bran
3/4 cup coarsely chopped walnuts
white of 1 egg
3/4 cup apricot nectar
1/2 cup maple syrup
2 teaspoons walnut oil
1 teaspoon vanilla extract
9-ounce package dried figs (Mission or Calimyrna preferred), quartered (about 1 1/2 cups)
6-ounce package dried cranberries (about 1 1/3 cup)
Directions
Preheat the oven to 325ºF. Lightly spray a 13 x 9 x 2-inch baking pan with vegetable oil spray.
In a large bowl, stir together the oats, oat bran, and walnuts. In a medium bowl, beat the egg white until frothy. Stir in the apricot nectar, maple syrup, walnut oil, and vanilla. Pour over the oat mixture, stirring until moistened. Press the mixture into the prepared pan. Bake, uncovered, for 45 minutes. Put the pan on a cooling rack and let cool for 10 minutes.
Break up the mixture into small pieces or clusters. Return the clusters to the pan. Bake for 10 minutes. Put the pan on a cooling rack. Stir in the figs and cranberries. Cool thoroughly. Store in an airtight container.
To serve, put 1/2 cup portions in snack-size bags or foil muffin cups. Or, portion into decorative bags and tie with colorful ribbon for a healthy and tasty gift.
Mixture will keep in airtight containers up to 1 week. (Freezing is not recommended.) 1/2 cup per serving; Nutrition information per serving: Calories 214, protein 5g, carbohydrate 39g, cholesterol 0mg, total fat 6g, saturated fat 0.5g, polyunsaturated fat 3.5g, monounsaturated fat 1.0g, fiber 5g, sodium 8mg.
Filed Under:
Snacks, Vegetarian, RV, Gifts, Brown Bagging, Quick and Easy, Make Ahead, Kid Friendly, Low Fat, Eating Light, New Year's, Fourth of July, Christmas, Finger Foods, Diabetic, Other