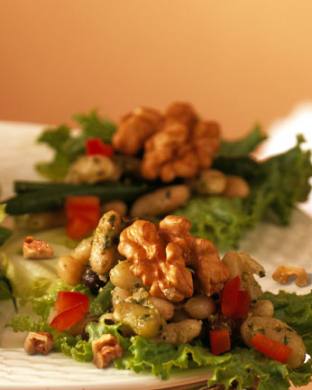 Recipe created by FabFood on

Nov 3, 2008
View more recipes by FabFood.
Prep: –
Cook Time: –
Total: –
Serving: –
Recipe for Walnut and Three Bean Salad. Flageolets, black beans and haricot verts with savory seasoning and toasted walnut pesto make enticing lettuce wrap finger foods.
Ingredients
1/2 cup basil leaves, fresh, tightly packed
1/2 cup parsley sprigs, flat leaf, tightly packed
2 teaspoons sage, fresh, chopped
1/2 cup walnut pieces, toasted
1/2 cup Parmesan cheese, freshly grated
1 clove garlic, minced
2 teaspoons orange juice, fresh
1/2 cup olive oil, extra virgin
coarse salt as needed
1 1/2 cups flageolets or navy beans, cooked and drained
1 1/2 cups black beans, cooked and drained
1 1/2 cups haricot verts or green beans, blanched and drained
black pepper, freshly ground as needed
24 whole, small, leaves Romaine lettuce
24 California walnut halves, toasted
small sprigs basil, parsley or sage (optional, as needed)
Directions
To make walnut pesto, place basil, parsley, sage, walnuts, cheese and garlic in food processor and process until finely ground. Add juice, then with motor running slowly add oil and process until mixture is thick and emulsified. Season with salt to taste. Set aside.
toss flageolets, black beans and haricot verts together in large bowl. Add pesto and toss to combine and coat evenly. Season to taste with salt and pepper.
Spoon about 3 tablespoons bean mixture onto each of 4 lettuce leaves. Top each with a walnut half and, if desired, garnish with an herb sprig.
Serves 6: 1 serving = 4 leaves with salad Nutrition information per serving: 424 calories, 14g protein, 31g carbohydrate, 4g fiber, 28g total fat, 5g saturated fat, 5mg cholesterol, 52mg sodium.
Filed Under:
Bean, Vegetarian, RV, Picnics, Make Ahead, Low Fat, Eating Light, New Year's, Christmas, Finger Foods, Diabetic, Vegetable, Vegan