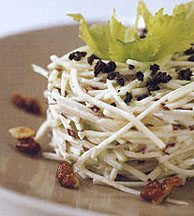 Recipe created by FabFood on

Jul 23, 2007
View more recipes by FabFood.
Prep: –
Cook Time: –
Total: –
Serving: –
Recipe for Waldorf Salad with Truffles and Candied Walnuts. This recipe is light, refreshing, and the truffles give it that special touch.
Ingredients
For the Candied Walnuts:
2 quarts vegetable oil
2 cups apple juice
1/2 cup honey
1/4 cup dark molasses
1/4 cup maple syrup
2 cups walnut halves
For the Dressing:
1/2 cup plain yogurt
1/2 cup creme fraiche
3 teaspoons freshly squeezed lemon juice
1/4 cup walnut oil
salt and freshly ground white pepper to taste
1 1/2 tablespoons minced black winter truffles
For the Waldorf Salad:
2 medium Granny Smith apples
2 medium Gala apples , unpeeled
1/2 cup peeled and julienned celeriac
1/2 cup celery leaves
Directions
To Prepare the Candied Walnuts: Pour the oil into a large saucepan and set over medium-low heat until a thermometer reads 375°F. Meanwhile, in a small saucepan set over medium heat, warm the apple juice, honey, molasses, and maple syrup. Bring to a strong simmer, add the walnuts, then turn the heat to medium low. Continue to simmer for 15 minutes. Remove the pan from the heat and strain the nuts, discarding the liquid. Carefully add the nuts to the hot oil in batches and fry for about 20 seconds, or until they are mahogany in color; be careful not to overfry the nuts, as they will burn quickly. Remove the nuts from the oil with a slotted spoon and spread out on a cookie sheet lined with parchment paper to cool. When room temperature, chop the walnuts. Store in the refrigerator in an airtight container.
To Prepare the Dressing:
Combine the creme fraiche, yogurt, and lemon juice in a mixing bowl. Whisk in the walnut oil and season with salt and pepper. Fold in half of the truffles.
To Prepare the Salad: Using a mandoline on the fine comb setting, julienne the Granny Smith and Gala apples into matchstick-size strips, being careful to avoid the seeds in the core; transfer to a mixing bowl. Add the julienned celeriac to the apples. Gently Fold the dressing into the apple mixture until well combined. Divide the salad between chilled serving plates and garnish the top of each salad with some celery leaves and the remaining truffles. Scatter the candied walnuts around each plate.
Wine Recommendation: Chilean Sauvignon Blanc (rich, with lemon zest and grapefruit tones and a balanced finish).
Chef's Notes: At the Waldorf, we have successfully paired this famous salad with game dishes such as venison or smoked duck breast with black currant sauce, as well as roasted chicken and Veal Oscar.
celeriac is the root of the celery plant. If unavailable, you may substitute regular peeled celery. The nuts can be made ahead and stored in an airtight container. For a shortcut, use store-bought candied walnuts.
Filed Under:
Vegetable, Fruit, Salad Dressings, Fruit, Vegetarian, Picnics, Make Ahead, Mother's Day, Father's Day, Thanksgiving, Christmas, Restaurant Recipes