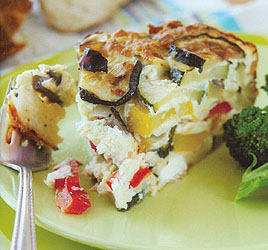 Recipe created by FabFood on

Jul 23, 2007
View more recipes by FabFood.
Prep: –
Cook Time: –
Total: –
Serving: –
Recipe for Vegetable Torta with Fresh Basil. This thick vegetable torta will be one of your favorite dishes to make for gatherings.
Ingredients
1/4 cup olive oil
1 large yellow onion
8 ounces fresh mushrooms, cleaned and sliced
3 zucchini, sliced 1/4 inch thick
3 yellow summer squash, sliced 1/4 inch thick
1 red bell pepper sliced into 1/4 inch thick strips
1 yellow bell pepper sliced into 1/4 inch thick strips
6 large eggs
1/4 cup half and half or evaporated milk
3 tablespoons chopped basil
salt and freshly ground black pepper
about 3 cups day-old bread in 1/2 inch cubes
1 package (8 ounces) cream cheese, cut into chunks
2 cups (6 to 8 ounces) shredded Jarlsberg cheese
Directions
Makes One 10 Inch Torta
Preheat oven to 350°F, if baking immediately. Brush the bottom and sides of a 10-inch springform pan with oil. To prevent leaking, wrap the outside of the pan with a sheet of aluminum foil.
In a large skillet, heat the olive oil over medium heat. Add the onions, mushrooms, zucchini, yellow squash and peppers, and sauté until crisp-tender, stirring occasionally, about 15 minutes.
While the vegetables are cooking, whisk together the eggs and half and half, and basil in a large bowl and season with salt and pepper. Stir in the bread cubes and cheeses.
Add the sautéed vegetables to the bread mixture and stir with a large rubber spatula to combine. Transfer to the prepared pan and pack the mixture tightly. Place the pan on a baking sheet.
Bake for about hour, until firm to the touch, puffed, and golden brown. Serve warm or cool to room temperature, cover, and refrigerate.
Transportation Notes: Tightly cover and place in a position to prevent tipping.
On Site Preparation: Reheat, if desired, at 350°F for 15 minutes, or until warmed through. To serve, cut into pie shaped wedges.
Filed Under:
Poultry, Eggs, Casseroles, Other, Casseroles, Vegetarian, RV, Quick and Easy, Make Ahead, Kid Friendly, Easter, Mother's Day