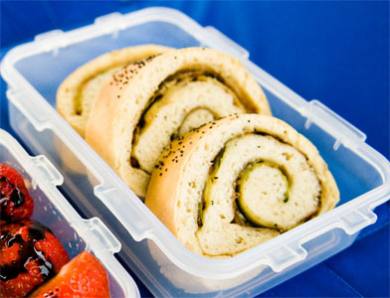 Recipe created by FabFood on

Aug 27, 2009
View more recipes by FabFood.
Prep: –
Cook Time: –
Total: –
Serving: –
Recipe for Vegan Grilled Vegetable Stromboli, made with eggplant and zucchini, this baked sandwich is perfect for brown bag lunches.
Ingredients
1 large eggplant
2 medium zucchini
kosher salt as needed
olive oil for grilling
1 1/8 cups warm water (110°F)
1 tablespoon active dry yeast
pinch of sugar
2 tablespoons olive oil
1 teaspoon kosher salt
2 1/2 to 3 cups all-purpose flour or white bread flour
1 head of roasted garlic
Italian herb seasoning mix, to taste
salt and freshly ground black pepper to taste
1/2 teaspoon poppy seeds
Directions
To make the vegetables, trim off the tops of the eggplant and zucchini, then slice them lengthwise into strips, cutting them as thinly as possible (a mandolin may be helpful here). Lay the strips out in a single layer and sprinkle both sides of them with salt. Let the strips sit for 30 minutes (this will help remove some of the moisture from the vegetables). Heat a nonstick grill or grill pan. Pat the vegetables dry and Brush them lightly with olive oil. Grill, turning halfway, until the strips are soft and have brown grill marks. Set the vegetable strips aside to cool, or refrigerate until needed.
To make the dough, place the warm water in a mixing bowl. Sprinkle the yeast and sugar into the warm water and stir well. Let the mixture sit for 5 minutes to dissolve the yeast. Add the olive oil, salt, and 2 cups of the flour. When the dough begins to form a ball, turn the dough out onto a lightly floured surface and knead. As you knead, add just enough of the remaining flour to keep the dough from sticking. Knead for about 10 to 15 minutes, until the dough is smooth, elastic, and supple. Place the dough in a well-oiled mixing bowl, turning to cover the top of the dough with some of the oil. Cover with plastic wrap and a kitchen towel, and place in a warm, draft-free place to rise until doubled in bulk, about 1 hour.
Preheat the oven to 375°F. Line a baking sheet with parchment paper, spray with nonstick spray, and set aside. Turn the dough out onto a lightly floured surface and roll into a flat rectangle, about 10 x 12 inches.
Squeeze all the roast garlic out into a small bowl and mash together with a fork. Spread the mashed garlic across the surface of the dough and top with one or two layers of grilled vegetables. Sprinkle with the Italian herbs, salt, and pepper.
Roll up the bread (like rolling up a cinnamon roll) to form a long narrow loaf, pinching the seam and ends closed. Place on the prepared baking sheet. Brush the top of the loaf with a little water and sprinkle with poppy seeds. Bake 30 minutes, until the loaf is nicely browned. Allow to cool before slicing.
VARIATION:
Feel free to substitute other grilled vegetables, such as bell peppers strips, onions, or thin slices of portobello mushroom, for the eggplant and zucchini. Just make sure that all vegetables are sliced thinly and grilled well. If your filling is too thick or too wet, you'll have a soggy Stromboli on your hands.
QUICK AND EASY VARIATION 1:
Use prepackaged pizza or bread dough from the store.
QUICK AND EASY VARIATION 2:
Substitute vegan turkey or ham deli slices and slices of vegan cheese for the grilled vegetables and roasted garlic.
Allergen Information:
Soy-free, nut-free. Contains gluten and wheat.
Filed Under:
Pizzas and Calzones, Sandwiches and Wraps, Vegetable Dishes, Vegetarian, RV, Picnics, Brown Bagging, Make Ahead, Kid Friendly, Low Fat, Eating Light, Finger Foods, Vegetable, Italian, Vegan