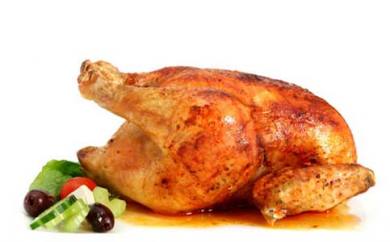 Recipe created by FabFood on

Oct 18, 2010
View more recipes by FabFood.
Prep: –
Cook Time: –
Total: –
Serving: –
Roasted chicken infused with Tuscan herbs, lemon, and olive oil.
Ingredients
1, 4 to 5 pound whole chicken, with backbone removed so chicken can be flattened, (see note below)
3 tablespoons olive oil
Zest from 2 lemons
8 cloves of garlic, minced
3 teaspoons fresh, chopped thyme leaves
2 tablespoons fresh, chopped rosemary leaves
2 teaspoon kosher salt
2 teaspoons freshly cracked black pepper
Note: To remove the backbone from the chicken, follow these simple steps:
Place the whole chicken, breast side down, on a plate covered with a paper towel. The legs should be against the paper towel and pointing away from you
Using kitchen shears, carefully cut vertically just to the right of the neck and backbone. Continue the vertical cut and finish cutting through the joint at the thigh bone
Repeat this process on the other side of the backbone
Rinse chicken with cold water, pat dry with paper towels, and lay flat (skin side up) on a roasting rack. Tuck wings behind back.
Directions
Combine all ingredients, except chicken, in a small bowl. Stir until mixture resembles a thick paste and all ingredients are well combined.
Using your hands, carefully loosen the skin over breasts and thighs. Remove any excess fat. Place 1 tablespoon of garlic mixture in between the skin and each section of breast meat. Repeat this process with both thighs. Use any leftover garlic mixture and spread it over the top of skin.
For a chicken with crispier skin, move chicken from roasting pan to a large plate. Place the chicken in the refrigerator for 1 to 2 hours before cooking. (Do not cover the chicken.)
Place chicken, skin side up, back on roasting rack (if previously removed). Place chicken into preheated 375 degree F oven. Cook chicken until the internal temperature of the chicken reaches 175 degrees F. This temperature should be taken at the thickest part of the breast meat. It will take approximately 1 hour and 15 minutes per pound to cook.