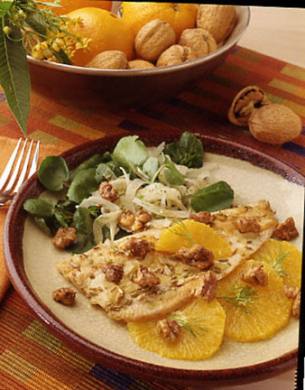 Recipe created by FabFood on

Nov 1, 2008
View more recipes by FabFood.
Prep: –
Cook Time: –
Total: –
Serving: –
Recipe for Trout Salad with Spiced Walnuts. Trout anglers and trout fans will love this unique Asian inspired trout salad recipe.
Ingredients
2 wild boneless trouts, butterflied, heads and tails removed
1 shallot, finely diced (about 1tablespoon)
1/2 cup fresh orange juice
2 tablespoons mirin, or other sweet cooking wine
2 teaspoons fennel seeds
2/3 cup walnut pieces
1/4 cup sugar
1/4 teaspoon salt
1/2 teaspoon five spice powder
1 tablespoon egg white, lightly beaten
2 oranges, peeled and sliced into 3/8" thick slices, reserving 4 slices for garnish
1 large bulb fennel, very thinly sliced (about 1 1/2 cups), plus a few feathery fronds for garnish
2 bunches watercress, tough stems removed
Directions
Coat a non-stick skillet with canola cooking spray. Sauté trout over medium high heat, skin side down, until just golden and slightly crisp, about 4 minutes. Turn once and cook an additional 4 minutes. Place trout skin side down in a shallow dish and set aside.
In a nonstick skillet, lightly sauté shallots until just softened, but not browned. Combine shallots, orange juice, mirin and fennel seeds and pour over trout. Cover and refrigerate for at least one hour, or overnight. While trout is marinating, preheat oven to 250ºf.
In a small bowl combine walnuts with sugar, salt, five spice powder, and egg white. Spread on a nonstick baking pan and bake until golden and most of the liquid is dried, stirring occasionally; about 45-60 minutes. Cool nuts to room temperature. Break apart nuts that may stick together.
Remove trout from marinade. Remove and discard skin; separate to create 4 equal fillets. Set aside and allow to come to room temperature. Reserve 2 tablespoons of the marinade and combine with walnut oil to make salad dressing.
In a large bowl, combine orange slices, fennel, watercress and dressing. Toss gently. Divide mixture among 4 plates, top each with a trout fillet and sprinkle walnuts overall. Garnish with reserved orange slices and fennel fronds. Serve immediately.
Nutrition information per serving: 349 calories, 21.2g protein, 31g carbohydrates, 4.6g fiber, 16.3g total fat, 1.8g saturated fat, 46.9mg cholesterol, 208.1mg sodium, 2.4g omega-3, 7.9g omega-6, 40% calories from fat, 34% calories from carbohydrates.
Filed Under:
Seafood, Vegetable, RV, Picnics, Brown Bagging, Make Ahead, Kid Friendly, Low Fat, Eating Light, Diabetic, Other Asian