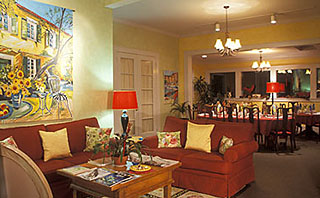 Recipe created by FabFood on

Jul 23, 2007
View more recipes by FabFood.
Prep: –
Cook Time: –
Total: –
Serving: –
Recipe to cook Tostaditas De Tingla Poblano. This recipe comes to us courtesy of Chef Priscila Satkoff of Chicago's fabulous restaurant Salpicon.
Ingredients
For the Meat:
1 pound pork shoulder
1 small onion
2 cloves garlic
1 tablespoon salt
For the Sauce:
1/2 tablespoon canola oil
1 small onion thinly sliced
2 cloves garlic finely chopped
1 1/2 pounds plum tomatoes roasted, peeled and chopped
4 ounces chorizo cooked
1/4 teaspoon ground cloves
1/4 teaspoon ground cinnamon
1 teaspoon thyme
1 ounces canned chipotle chiles (or to taste)
salt to taste
24 small tostaditas (small crispy tortillas)
1/2 cup Mexican cream
1 medium ripe avocado dice
Directions
Serves 6 as an Appetizer (24 small pieces)
For the Meat: Cut the meat in 3 by 3 inch pieces. In a medium sauce pan put the meat to boil cover with water, onion, garlic and salt for 1 1/2 hours. or until the meat is nice and tender. Let it cool, and shred.
For the Sauce: In a medium sauté pan heat the oil, when this is hot add the onion and sauté for about 3 minutes, add the chopped garlic and sauté. Add the tomatoes and cover, let simmer for about 8 minutes then add the chorizo, shredded pork, the chipotle chiles, cloves, cinnamon and thyme. Mix well and let it simmer for 2 more minutes, add salt to taste. Remove from heat.
Assemble the dish: On small tostaditas put 1 ounce (about 1 tablespoon of meat), garnish with a small amount of cream and small pieces of avocado.
Options: This also makes great tacos using soft tortillas.