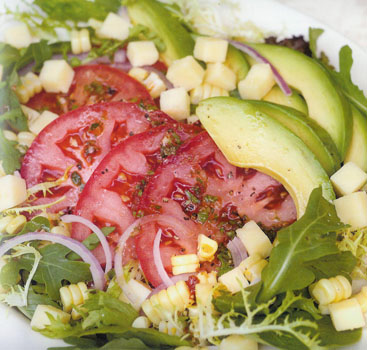 Prep: –
Cook Time: –
Total: –
Serving: –
Recipe for Tomato, Avocado and Roasted Corn Salad with Chipotle Sherry Vinaigrette. If you have the grill going, you can cook the corn on the grill instead of in the oven.
Ingredients
4 ears corn on the cob with husks still attached
salt as needed
6 cups mesclun lettuce mix, rinsed and dried
3 red beefsteak tomatoes, sliced 1/4 inch thick
2 avocados, cut into slices
1 medium red onion, thinly sliced
1 cup small diced aged Cheddar cheese
2 teaspoons freshly ground black pepper
Chipotle Sherry Vinaigrette:
3 tablespoons sherry vinegar
1 tablespoon fresh lime juice
1 tablespoon minced shallots
1 tablespoon chopped cilantro
1 teaspoon chopped thyme
1 tablespoon chopped parsley
2 canned chipotles, drained and minced
1 garlic clove, minced
1 teaspoon real maple syrup
3/4 cup olive oil
Directions
1. Prepare the Chipotle Sherry Vinaigrette (Makes 1 Cup): In a medium bowl, combine all the ingredients except the olive oil. Gradually whisk in the olive oil until the dressing is lightly thickened. Taste and adjust the seasoning. 2. Preheat the oven to 400ºF. Roast the unhusked ears of corn until tender, about 45 minutes. Check their doneness after about 45 minutes; pull the husk partially away from the biggest ear. If you can pierce a kernel easily with a fork, it is done. Remove from the oven and cool completely.
3. Shuck the corn and cut the kernels away from the cobs. Place the corn kernels in a mixing bowl and toss with 1 teaspoon of the salt. Keep the corn at room temperature if you are making the salad right away, or cover and refrigerate for up to 12 hours.
4. Toss the mesclun mix with 1/2 cup of the vinaigrette. Mound the dressed mesclun on a chilled platter or individual plates. Arrange the tomatoes, avocados, and red onion over the mesclun.Sprinkle with the cheese and reserved corn. Drizzle with the remaining 1/2 cup dressing. Season to taste with salt and pepper. Serve immediately.
Filed Under:
Vegetable, Dressings, Salad Dressings, Camping, RV, Low Fat, Eating Light, Cinco de Mayo, Father's Day, Fourth of July, Other Latin