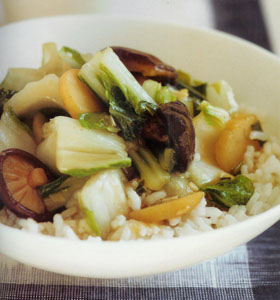 Recipe created by FabFood on

Jun 3, 2009
View more recipes by FabFood.
Prep: –
Cook Time: –
Total: –
Serving: –
Recipe for The Poor Chef's Bok Choy and Shiitake Japanese Stir Fry, a frugal recipe that costs under $5.00 for 4 servings to make.
Ingredients
6 whole dried shitake mushrooms
1 teaspoon minced fresh garlic
1 teaspoon minced fresh ginger
2 cups chicken stock
1 cup canned water chestnuts, drained
1 scallion, thinly sliced
1 tablespoon soy sauce
2 teaspoons cornstarch
1 large head bok choy
2 cups hot cooked rice
Directions
1. Pour 1 cup boiling water over the shiitake mushrooms in a medium-sized bowl and allow them to sit, covered, for 30 minutes to rehydrate.  Trim off the mushroom stems, and reserve the soaking liquid.
2. Add the mushroom soaking liquid to a large skillet.  Add the garlic and ginger to the liquid in the skillet and simmer over medium heat for 2 minutes.  Add the stock, water chestnuts, mushrooms, scallion, and soy sauce and simmer for 10 minutes.
3. Meanwhile, in a small bowl, stir the cornstarch together with 1/2 cup cold water; set aside.
4. Trim the bottom off the bok choy and discard; coarsely chop the rest.  You should have about 4 cups of chopped bok choy.  Place a steamer basket inside a pot, add water to the bottom of the pot and bring to a boil.  Add the bok choy to the steamer basket and steam, tossing occasionally, until barely tender, about 4 minutes.  Add the steamed bok choy to the skillet and stir briefly.  Stir in the cornstarch mixture and simmer until the liquid is thickened.
5. Serve over the rice.
Filed Under:
Vegetable Dishes, Mushroom, Other, Vegetarian, Camping, RV, Quick and Easy, Kid Friendly, Low Fat, Eating Light, Japanese, Vegan