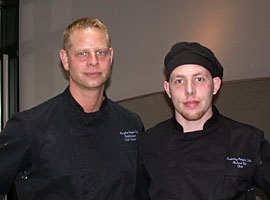 Prep: –
Cook Time: –
Total: –
Serving: –
Recipe for The Everyday People Cafe's Wasabi Pea Crusted Tuna with Thai Chile Mayo. This restaurant, in tiny Douglas, MI, is outstanding -- one of our favorite foodie finds of recent years!
Ingredients
1/2 cup ground wasabi peas
soy sauce for dipping
12 ounce tuna loin (cut into 2-3 ounce pieces)
about 1/2 cup peanut oil for cooking (approx 1/2 cup) Mayo:
1/2 cup mayonaisse
1 tablespoon orange juice
1 tablespoon sesame oil
2 tablespoons Siracha (Asian chile hot sauce)
Directions
In a sauté pan heat the oil unitl hot and sear the tuna on all sides for about 15 seconds. If you would like the tuna cooked more than rare, cook longer on each side. Remove from oil and put onto a dry towel.
Then cut into thin slices. For the mayo mix all ingredients well and serve with the thin sliced tuna.