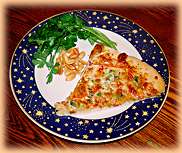 Recipe created by FabFood on

Jul 23, 2007
View more recipes by FabFood.
Prep: –
Cook Time: –
Total: –
Serving: –
Recipe for Thai Style Chicken, Shrimp or Vegetable Pizza. The peanut sauce from this California style pizza is what makes it. You can use chicken, shrimp or leave it as a vegetarian pizza.
Ingredients
1 recipe basic pizza dough (click this link for recipe)
1/2 cup peanut sauce (click this link for recipe)
3 boneless chicken breasts, optional
OR
1/3 pound small shrimp , peeled and deveined, optional
6 ounces grated mozzarella cheese
4 ounces grated Swiss cheese
1 carrot
4 green onions
1 cup bean sprouts
1/2 cup chopped peanuts
1/3 cup fresh cilantro
crushed red pepper, to taste
Directions
Prepare the pizza dough.
Preheat oven to 450° F. Prepare the peanut sauce. Julienne the carrot. Slice green onion. Chop cilantro.
If Using Chicken or Shrimp: Sauté chicken breasts in peanut oil until just brown on both sides. For shrimp, Sauté for about 3 minutes, until shrimp turn pink. Remove from pan. If using chicken, cut into small cubes. Place 1/2 cup peanut sauce in heated pan and return chicken or shrimp to pan. Heat sauce and chicken or shrimp together then set aside.
Make Pizza: Roll out the pizza dough. Spread 1/2 cup peanut sauce evenly on dough. Spread both cheeses on dough leaving 1/2 inch border for crust. Spoon cooked chicken or shrimp (if using) evenly over pizza. Sprinkle the cut veggies and peanuts on top. Bake pizza for 10 to 15 minutes or until the crust is a light brown.
Remove pizza and place on cooling rack. Sprinkle Chopped cilantro evenly over pizza. Let cool for 10 minutes.
Slice and Enjoy!
Filed Under:
Hors, Poultry, Seafood, Chicken, Shellfish, Pizzas and Calzones, Vegetable Dishes, Vegetarian, Kid Friendly, Finger Foods, Vegetable, Thai