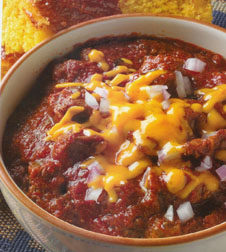 Prep: –
Cook Time: –
Total: –
Serving: –
Recipe for Texas Red Chili. This chili is made with chunks of sirloin and seasoned with a blend of ancho chiles and pasilla chiles.
Ingredients
3 1/2 to 4 pounds beef sirloin or stew meat
kosher salt
coarsely ground black pepper
1 tablespoon corn oil
1/4 pound bacon, diced
3 cups chopped onion
2 cups chopped green pepper
2 medium jalapeño peppers, seeded and minced
2 heaping tablespoons chopped garlic
4 cups beef broth or stock
1 can (28 ounces) crushed tomatoes
2 bay leaves
1 cinnamon stick (2 1/2 to 3 inches long)
2 tablespoons ground ancho chile (see note)
1 tablespoon ground pasilla chile (see note)
2 teaspoons ground cumin
1 1/2 tablespoons brown sugar
1 tablespoon dried oregano
juice of 1/2 lime
2 tablespoons chopped fresh cilantro
The Garnish:
shredded cheddar cheese
chopped red onions
Directions
Trim away the fat and membrane from the meat and cut into 1-inch cubes. Season the meat with 1 tablespoon each of salt and pepper and set aside.
Heat the oil in a large Dutch oven. Toss in the bacon and cook over medium-high heat until brown and crispy. Scoop out the bacon and drain on some paper towels. (The bacon is only for flavoring the oil in the pot, so feel free to eat up all the crispy bits while you cook.)
Keep the bacon fat in the pan and add the beef in batches. Cook each batch about 5 minutes, stirring the pieces around till browned. Scoop each batch out into a bowl when it's done.
Toss the onions, green peppers, and jalapeños into the pot and stir them around in the pan juices, scraping up all the tasty brown bits clinging to the bottom and sides of the pot. Season the veggies with a generous pinch of salt and pepper, and cook until soft. Add the garlic and cook for 1 minute more.
Dump all the meat and any accumulated meat juices into the veggies. Add the broth, tomatoes, bay leaves, cinnamon stock, chiles, cumin, and brown sugar and give everything a good stir. Cover the pan and bring to a boil, then crack the lid, turn down the heat to low, and simmer for 1 1/2 to 2 hours, or until the beef is nice and tender but still holds its shape. Finish the chili by adding the oregano, lime juice, and cilantro.
Fish out the cinnamon stick and the bay leaves, then check the seasonings and add a bit more salt and pepper of you like. Ladle the chili out into bowls and top with some shredded cheddar cheese and chopped red onion. It's lip-tinglin' good.