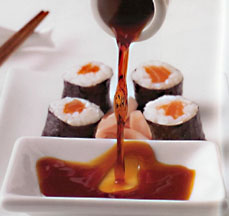 Recipe created by FabFood on

Jul 23, 2007
View more recipes by FabFood.
Prep: –
Cook Time: –
Total: –
Serving: –
Recipe for Sliced Tuna Roll Sushi -- Tekka Maki. The story goes that this roll was created as a quick snack for gamblers who didn't want to leave the table.
Ingredients
1/2 block of sashimi grade tuna, roughly 1 inch thick
4 sheets nori
4 cups prepared sushi rice (see Sushi Rolls link below for recipe)
2 teaspoons wasabi paste, or to taste
1/4 cup thinly sliced scallions, rinsed and patted dry
soy sauce
pickled ginger
Directions
Yield: 4 Medium Rolls (32 Pieces)
1. Slice the fish straight down, into pieces about 1/2 inch thick. Then slice these pieces in half, horizontally, creating sticks of fish about 1/2 inch in size.
2. Place a bamboo mat in front of you, its slats parallel to the countertop or table. Lay a sheet or nori, lengthwise, shiny side down, on the edge of the bamboo mat closest to you. Place a half sheet of nori in the palm of your left hand, shiny side down. Dip your right hand into a bowl of vinegared water and then tap your fingers on a damp towel to remove excess water. Spread 1 cup of the sushi rice evenly on the nori, leaving a 2 1/2 inch wide strip of nori, not covered with rice, on the edge farthest away from you. Spread 1/4 of the wasabi paste across the center of the rice and then sprinkle 1/4 of the scallions on the wasabi paste. Lay 2 or 3 sticks of tuna, end to end, across the center of the rice, spanning the length of the nori.
3. Lift up the edge of the mat closest to you, keeping your fingertips on the fillings, and roll the mat and its contents away from you until the edge of the mat touches down on the far edge of the rice. Tug on the mat to tighten the roll. Lay the mat down on the counter and move the partially done roll back to the edge of the mat closest to you. Lift the mat again and finish rolling up the roll. Tug on the mat to tighten the seal.
4. Cut the roll into 8 equal pieces, wiping your knife with a damp towel before each slice. Make 3 more rolls, following these instructions. Serve with soy sauce as a dipping sauce, and pickled ginger to cleanse the palate.
Per piece:
Calories 43; Fat 0g (Saturated 0g); Cholesterol 3mg; Sodium 191 mg; Carbohydrates 8g; Dietary Fiber 0g; Protein 3g.
Filed Under:
Seafood, Fish, Sushi, Camping, RV, Low Carb, Low Fat, Eating Light, New Year's, Finger Foods, Japanese