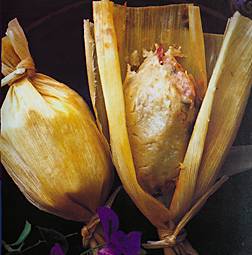 Recipe created by FabFood on

Jul 23, 2007
View more recipes by FabFood.
Prep: –
Cook Time: –
Total: –
Serving: –
Recipe for Tamara's Tamales Family Chicken Tamales. These tamales are a variation on a style of tamale from Sinaloa, the coastal state in Mexico.
Ingredients
4 cups 1-inch cubed freshly cooked chicken
12 cups basic fresh masa
Family Chicken Sauce:
1 can whole tomatoes
4 tablespoons olive or vegetable oil
2 onions, chopped
1 teaspoon dried oregano or a tablespoon fresh oregano
1 teaspoon ground cumin
1 teaspoon seasoned salt
1 teaspoon freshly ground black pepper
24 dried corn husks, soaked, washed, and drained, plus more for ties
2 large russet potatoes, peeled and cut into 1/4 inch slices
3 zucchini, cut into 1/4 strips
1 can Ortega chiles
OR
2 fresh green Poblano or Anaheim chiles, roasted and cut into 24 strips, 1/2 inch wide
1 jar pimiento-stuffed Spanish olives
1/2 cup raisins
Directions
Prepare the masa.
To make the sauce, drain the tomatoes, reserving the liquid, and chop coarsely. In a skillet over medium heat, heat the oil. Sauté the onion for 2-3 minutes, until soft. Add the oregano, cumin, salt and pepper and cook for 1-2 minutes, until the onions are translucent and the flavors are incorporated. Add the tomatoes and the reserved liquid and simmer for 20 minutes until the tomatoes are soft and beginning to break down. Remove from the heat and let cool to room temperature. Fold the chicken into the sauce and set aside.
Makes About 2 Dozen tamales To assemble the tamales, spread 1/2 cup masa across the center of the smooth side of a corn husk. Place 1 heaping tablespoon of the chicken mixture in the center of the masa. Top with 2 potato strips, 2 zucchini strips, 1 chile strip, one olive and 2 raisins. Fold both sides over the filling. Tie both ends of the tamale while squeezing in the ends to plump the tamale. Prick the tamale several times with a knife to create vent holes. Repeat for the remaining tamales. Steam the tamales for 1 hour or until done.
Filed Under:
Chicken, Tamales, Vegetarian, Gifts, Make Ahead, New Year's, Cinco de Mayo, Christmas, Mexican, Other Latin, Freezer Friendly, Restaurant Recipes