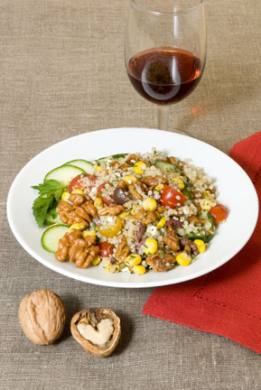 Recipe created by FabFood on

Nov 1, 2008
View more recipes by FabFood.
Prep: –
Cook Time: –
Total: –
Serving: –
Recipe for Summer Fresh Confetti Walnut Quinoa Salad. Here's a great grain and summer vegetable salad that's even great as a light entree.
Ingredients
1 cup uncooked quinoa
3 tablespoons walnut oil, plus additional oil if needed
3 tablespoons lemon juice, plus additional lemon juice if needed
1 teaspoon dried oregano leaves
1/2 teaspoon ground cumin
1/2 teaspoon salt, plus salt to taste
1/2 teaspoon freshly ground black pepper
1 cup cooked corn kernels, or frozen corn, thawed
half an English cucumber, quartered lengthwise, seeded, and thinly sliced
6 - 8 ounces cherry tomatoes, halved, to make about 1 1/2 cups
3/4 cup chopped walnuts, toasted
1/2 cup crumbled feta cheese, preferably flavored with garlic and herbs
1/3 cup coarsely chopped, pitted, Kalamata olives
1/4 cup chopped fresh parsley
Directions
Combine water and quinoa in a 2-quart saucepan and bring to a boil over high heat. Cover the pan, turn the heat to low, and simmer until the water is absorbed, 10 - 12 minutes. Set aside off heat for about 5 minutes, then stir and fluff the quinoa with a fork.
In large bowl, whisk together the walnut oil, lemon juice, oregano, cumin, salt and pepper. Add corn, cucumber, cherry tomatoes, walnuts, feta, olives, parsley and quinoa, and stir and toss to coat with the dressing.
Refrigerate until serving. Taste the salad, and season with additional salt, walnut oil and lemon juice and if you wish. Makes 6 - 8 cups salad, serving 8 – 10 Nutrition information per serving: 200, Fat: 13 g, Saturated Fat: 2g, Protein: 6g, Carbohydrate: 18g, Cholesterol: 5mg, Sodium: 250 mg, Fiber: 3g.
Filed Under:
Rice and Grains, Vegetable, Rice and Grains, Vegetarian, Camping, RV, Picnics, Brown Bagging, Quick and Easy, Make Ahead, Low Fat, Eating Light, Fourth of July, Diabetic, Mediterranean, Vegan