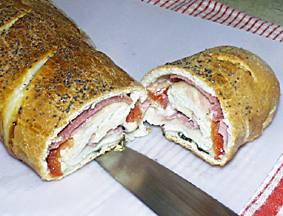 Prep: –
Cook Time: –
Total: –
Serving: –
Recipe for Stromboli. This rolled baked sandwich is perfect for feeding a crowd of hungry sports fans, or a hungry family for a casual supper.
Ingredients
1 1/4 cups warm water (105° - 115°F)
1 tablespoon yeast
1 teaspoon sugar
2 tablespoons olive oil
2 teaspoons salt
between 3 1/2 - 4 cups flour
about 1/2 pound thinly sliced meats such as ham, salami, turkey, pepperoni, etc.
about 1/4 pound sliced cheese (I like Provolone, but use what you like)
1/4 cup grated hard cheese like Romano or Parmesan
thinly sliced tomatoes
thinly sliced onions
thinly sliced bell peppers or roasted bell peppers
chopped black or green olives
roasted garlic
fresh or dried basil and/or Italian seasoning
1 egg, beaten 2 teaspoons sesame seeds or poppy seeds (optional)
Dough Fillings (mix and match as you like) Other Options
Directions
Combine 1/4 warm water, yeast and sugar in a large bowl and stir to dissolve. Let stand until foamy, about 5 minutes. Stir in remaining warm water olive oil and salt. Gradually add 1 1/2 - 2 cups flour, mixing until smooth. Gradually add enough remaining flour until you have a smooth dough that comes away from the bowl. Turn dough out onto a lightly floured surface and knead 10 minutes, working in more flour as needed. Shape into a ball, place in a greased bowl and cover with a clean kitchen towel. Let dough rise until doubled, about 1 hour.
1. 2. Preheat oven to 375°F and grease a large baking sheet (if you have a pizza or bread stone in your oven you can forego the baking sheet and bake the stromboli directly on the stone). Punch dough down and cut in half. On a lightly floured surface, roll each dough half into a rectangle about 10" x 8". Arrange fillings over dough as shown in Photo 1, finishing with a sprinkling of Parmesan. Roll the dough much like you would if you were making a jelly roll (photo 2). Pinch the edges of the seam and tuck the ends under. 3. 4. Cut long diagonal slashes, about 1/2 inch deep, along the top of the loaf every 3 inches or so, as shown in photos. Brush top of loaf with beaten egg, avoiding the area in the slashes. Sprinkle with poppy or sesame seeds if desired (photo 3). bake for about 30 minutes or until bread is golden brown. Cool slightly before cutting and serving, or if you prefer to eat your stromboli cold, cool completely on a wire rack before wrapping and refrigerating.
Filed Under:
Snacks, Sandwiches and Wraps, RV, Picnics, Brown Bagging, Make Ahead, Kid Friendly, New Year's, Father's Day, Finger Foods, Italian