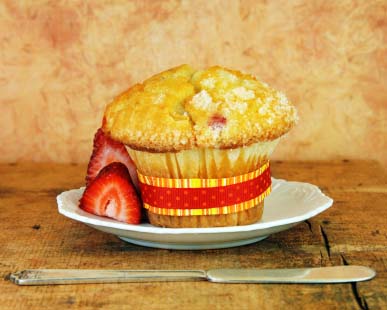 Recipe created by FabFood on

Feb 17, 2011
View more recipes by FabFood.
Prep: –
Cook Time: –
Total: –
Serving: –
Strawberry Muffin recipe. Freshly baked strawberry muffins are a fabulous treat for any weekend. This recipe for strawberry muffins makes tender muffins with a crave worthy buttery-sugary topping.
Ingredients
1 large egg
1 cup nonfat milk
1/2 cup unsalted butter, melted and slightly cooled
1 cup all-purpose flour
1 cup whole wheat flour
1/2 cup granulated sugar
1 tablespoon baking powder
1 teaspoon salt
1 teaspoon vanilla extract
1 cup frozen strawberries
Topping:
1/4 cup unsalted butter, melted
1/4 cup course sugar
Directions
Preheat the oven to 400 degrees F; line 12 muffin cups with paper liners; set aside while you prepare the batter.
In the bowl of a stand mixer, beat the egg until it's light and frothy, about 2 to 3 minutes; add the nonfat milk and butter to the stand mixer; beat on medium speed until well combined.
In a medium bowl, sift together the flour, sugar, baking powder, and salt. With the stand mixer running on low, add the flour mixture a little at a time, until it's all just combined and moistened; add the strawberries and run the mixer on high for 20 seconds.
Now it's time to fill the muffin cups. Using a scoop (such an ice cream scoop or even a ladle), divide the batter evenly among the 12 muffin cups.
Slide the muffins into the preheated oven; bake for 20 to 25 minutes, until a toothpick inserted into the center of the muffin comes out clean; the tops of the muffins should be a golden brown.
Allow the muffins to cool slightly before proceeding.
Once the muffins are cool enough to touch, put the melted butter for the topping in one bowl and the coarse sugar in a second bowl; dip each muffin first in the butter and then in the sugar; let the muffins cool completely on a wire drying rack before serving.