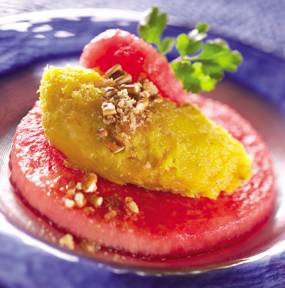 Recipe created by FabFood on

Jul 23, 2007
View more recipes by FabFood.
Prep: –
Cook Time: –
Total: –
Serving: –
Recipe for Squash Puree with Cinnamon and Watermelon. This unique side dish is a perfect match for your holiday meal.
Ingredients
3 acorn squash
3 tablespoons butter
1 cup brown sugar
1 teaspoon ground cinnamon
salt and pepper to taste
8 slices of 1-inch thick watermelon
Optional Garnish:
toasted nuts, such as pecans
Directions
Split the squash in halves and scrape out the stringy innards and seeds and discard. Place the squash on a roasting sheet, split side up. Place 1/2 tablespoon butter in the well of each squash and then sprinkle the brown sugar over them. Now divide the cinnamon in pinches over them. Cover loosely with foil and roast them in the oven until tender, about 1 hour.
When just cool enough to handle, scrape the tender flesh from the squash into a heatproof mixing bowl and mash into a puree with the back of a fork. Season with salt and pepper. Keep warm.
Cut the slices of watermelon into 5 inch circles (use the watermelon trimmings for snacking). Cut a large round hole in the center of each slice and remove.
To serve: Spoon the warm squash in generous dollops in the center of each watermelon slice and place the cut out rounds vertically in the squash. Garnish with toasted nuts, if desired.