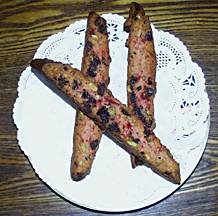 Prep: –
Cook Time: –
Total: –
Serving: –
Recipe for Spumoni Biscotti Cookies. This version of the classic Italian dipping cookies have the flavors of my favorite Italian Ice Cream, namely cherries, pistachios and chocolate.
Ingredients
2 1/2 cups flour
1/2 teaspoon almond extract
1 1/2 teaspoons baking powder
1 cup shelled pistachios, coarsely chopped
1/4 teaspoon salt
1/2 cup softened butter
1 cup drained maraschino cherries, patted dry
3/4 cup chocolate chips
1 cup sugar
2 eggs
1/2 teaspoon vanilla extract
Directions
Makes about 4 dozen
Preheat oven to 325° F. Line a baking sheet with parchment paper.
Combine flour, baking powder, salt. Use an electric mixer to beat butter with sugar until fluffy. Beat in eggs, one at a time, add extracts. beat in flour mixture. Stir in cherries, chocolate chips and nuts. Shape dough into 2 logs and place on baking sheets 3 inches apart. Bake for 40 minutes or until edges start to brown. Remove from oven and reduce heat to 250° F. Cool logs until they are comfortable to handle. Use a serrated knife to cut logs into 1/\"2 inch thick, diagonal slices (see photo). Transfer slices to baking sheets standing them upright. Bake for 15-20 minutes or until edges are golden and cookies are almost completely. Cool on rack.
Filed Under:
Ethnic, Vegetarian, RV, Picnics, Gifts, Brown Bagging, Make Ahead, New Year's, Easter, Mother's Day, Father's Day, Christmas, Italian, Biscotti