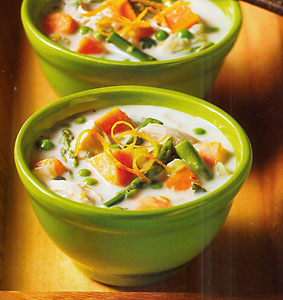 Recipe created by FabFood on

Aug 26, 2009
View more recipes by FabFood.
Prep: –
Cook Time: –
Total: –
Serving: –
Recipe for Spring Chicken Chowder with Asparagus and Peas. This soup also tastes good in winter, summer and fall -- just substitute in season vegetables.
Ingredients
1/4 cup unsalted butter
1 onion, finely chopped
2 cloves garlic, minced
1 stalk celery, diced
1 teaspoon dried thyme
3 tablespoons all-purpose flour
1/2 teaspoon salt
1/4 teaspoon freshly ground black pepper
6 cups chicken stock
1 whole chicken (about 3 pounds), rinsed, or 3 pounds skinless chicken thighs
1 bay leaf
2 sweet potatoes (about 1 1/2 pounds) peeled and cut into 1/2-inch dice
1 bunch asparagus (about 12 ounces), trimmed and cut into 1-inch pieces
1 cup frozen peas
1 cup half and half cream
1/4 cup minced Italian parsley
pinch of cayenne pepper
grated zest and juice of 1 lemon, divided
Directions
1. In a large pot, melt butter over medium heat until sizzling.  Add onion and sauté until softened, about 6 minutes.  Add garlic, celery and thyme and sauté until celery starts to soften, about 3 minutes.  Sprinkle with flour, salt and black pepper an sauté for 2 minutes.
2. Gradually whisk in stock.  Add chicken and bay leaf.  If chicken isn't immersed, add water or stock to cover.  Bring to a boil over medium-high heat.  Partially cover, reduce heat to low and simmer gently for 25 minutes.  Add sweet potatoes and simmer until a thermometer inserted into the thickest part of a chicken breast registers 170°F (75°C), about 20 minutes.  Skim the soup of any scum develops on the surface.  Remove from heat.
3. Using tongs, transfer chicken to a large plate and let cool slightly.  Remove skin and bones and discard.  Shred meat into bite-size pieces and set aside.
4. Skim the fat from the surface of the stock with a large spoon and return to a simmer over medium heat.  Add asparagus and peas; simmer until tender, about 10 minutes.  Discard bay leaf.  Stir in reserved chicken, half and half, parsley, cayenne, half the lemon zest and the lemon juice; reheat over medium heat until steaming, stirring often.  Do not let boil.  Taste and adjust seasoning with salt and black pepper, if necessary.
5. Ladle into heated bowls and garnish with remaining lemon zest.
Tips:
We sometimes poach chicken in chicken stock and vegetables to make the stock richer and fuller tasting.
We like to use a microplaner to grate citrus zest.
Be careful not to let the soup boil after adding the half and half or it will curdle.