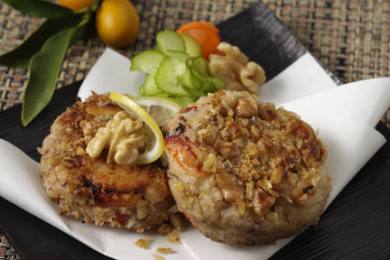 Recipe created by FabFood on

Oct 29, 2008
View more recipes by FabFood.
Prep: –
Cook Time: –
Total: –
Serving: –
Recipe for Spicy Crab Cakes with Walnut Crust. Warm Asian flavors like chili garlic sauce and soy sauce meld with sweet , succulent crab to create a wildly flavorful appetizer.
Ingredients
Walnut Coating:
1 1/2 cups panko Japanese style bread crumbs
1/2 cup finely chopped walnuts Crab Mixture:
1 pound fresh crab meat, or 4 six-ounce cans crab
1/2 cup finely chopped walnuts
2 cups panko Japanese style bread crumbs
2 eggs, beaten together
1/4 cup finely diced red bell pepper
3/4 cup mayonnaise
1 tablespoon Asian chili garlic sauce or chili paste
1 teaspoon toasted sesame oil
1 teaspoon soy sauce
1 teaspoon lemon juice
1/4 cup chopped fresh chives
1 teaspoon coarse salt
1/4 teaspoon pepper
2 tablespoons, or more, canola oil
lemon wedges
tartar sauce
Directions
To make the coating, in a shallow bowl or baking dish, stir the panko and walnuts together. Set aside.
If you are using fresh crab, remove any stray pieces of shell or cartilage. If you are using canned crab, dump it into a large strainer and drain it thoroughly, gently pressing out excess liquid.
In a large bowl combine the crab with the walnuts, panko, eggs, bell pepper, mayonnaise, chili sauce or paste, sesame oil, soy sauce, lemon juice, chives, salt and pepper. Stir and toss the ingredients with fork until evenly combined. The crab cakes will be easier to form if at this point you cover the bowl and refrigerate the mixture for 2 to 3 hours, or overnight if you wish.
Cover a large platter or baking sheet with waxed paper, and place the walnut coating next to it. Scoop up 1/3-cup blobs of the crab mixture and, between the palms of your hands, pat and shape them into cakes 2 to 3 inches across and about 3/4 inch thick. As the cakes are formed, very gently press the top and bottom of each one into the walnut coating, leaving the perimeter of the cake exposed. Set the formed cakes aside on waxed paper.
Heat 2 tablespoons canola oil in a large skillet over moderately high heat. Add as many cakes as will comfortably fit in one layer, and cook about 3 minutes on each side, until golden. Add more oil to the pan if necessary, and cook the remaining cakes the same way.
Serve the crab cakes as soon as possible, while they are crisp, accompanied by lemon wedges and tartar sauce if you wish.
Makes about 16 crab cakes, serving 4 as a main course, 8 as an appetizer. Normal 0 false false false MicrosoftInternetExplorer4 <!-- /* Font Definitions */ @font-face {font-family:Helvetica; panose-1:2 11 6 4 2 2 2 2 2 4; mso-font-charset:0; mso-generic-font-family:swiss; mso-font-pitch:variable; mso-font-signature:536902279 -2147483648 8 0 511 0;} /* Style Definitions */ p.MsoNormal, li.MsoNormal, div.MsoNormal {mso-style-parent:""; margin:0in; margin-bottom:.0001pt; mso-pagination:widow-orphan; font-size:12.0pt; font-family:"Times New Roman"; mso-fareast-font-family:"Times New Roman";} p.Body, li.Body, div.Body {mso-style-name:Body; margin:0in; margin-bottom:.0001pt; line-height:12.0pt; mso-pagination:widow-orphan; mso-layout-grid-align:none; punctuation-wrap:simple; text-autospace:none; font-size:12.0pt; mso-bidi-font-size:10.0pt; font-family:Helvetica; mso-fareast-font-family:"Times New Roman"; mso-bidi-font-family:"Times New Roman"; color:black;} @page Section1 {size:8.5in 11.0in; margin:1.0in 1.25in 1.0in 1.25in; mso-header-margin:.5in; mso-footer-margin:.5in; mso-paper-source:0;} div.Section1 {page:Section1;} --> /* Style Definitions */ table.MsoNormalTable {mso-style-name:"Table Normal"; mso-tstyle-rowband-size:0; mso-tstyle-colband-size:0; mso-style-noshow:yes; mso-style-parent:""; mso-padding-alt:0in 5.4pt 0in 5.4pt; mso-para-margin:0in; mso-para-margin-bottom:.0001pt; mso-pagination:widow-orphan; font-size:10.0pt; font-family:"Times New Roman"; mso-ansi-language:#0400; mso-fareast-language:#0400; mso-bidi-language:#0400;}
To make the coating, in a shallow bowl or baking dish, stir the panko and walnuts together. Set aside. If you are using fresh crab, remove any stray pieces of shell or cartilage. If you are using canned crab, dump it into a large strainer and drain it thoroughly, gently pressing out excess liquid. In a large bowl combine the crab with the walnuts, panko, eggs, bell pepper, mayonnaise, chili sauce or paste, sesame oil, soy sauce, lemon juice, chives, salt and pepper. Stir and toss the ingredients with fork until evenly combined. The crab cakes will be easier to form if at this point you cover the bowl and refrigerate the mixture for 2 to 3 hours, or overnight if you wish. Cover a large platter or baking sheet with waxed paper, and place the walnut coating next to it. Scoop up 1/3-cup blobs of the crab mixture and, between the palms of your hands, pat and shape them into cakes 2 to 3 inches across and about 3/4 inch thick. As the cakes are formed, very gently press the top and bottom of each one into the walnut coating, leaving the perimeter of the cake exposed. Set the formed cakes aside on waxed paper. Heat 2 tablespoons canola oil in a large skillet over moderately high heat. Add as many cakes as will comfortably fit in one layer, and cook about 3 minutes on each side, until golden. Add more oil to the pan if necessary, and cook the remaining cakes the same way. Serve the crab cakes as soon as possible, while they are crisp, accompanied by lemon wedges and tartar sauce if you wish. Makes about 16 crab cakes, serving 4 as a main course, 8 as an appetizer Nutrition information per serving:
234 calories, 10g protein, 21g carbohydrates, 1g fiber, 537mg sodium, 43mg cholesterol, 12g total fat, 2g saturated fat, .64g omega-3234 calories, 10g protein, 21g carbohydrates, 1g fiber, 537mg sodium, 43mg cholesterol, 12g total fat, 2g saturated fat, .64g omega-3