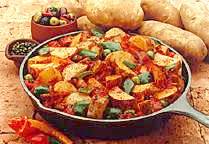 Prep: –
Cook Time: –
Total: –
Serving: –
Recipe for Spanish Potatoes. this dish makes a wonderful side dish for breakfast, lunch or dinner.
Ingredients
2 1/2 pounds Idaho potatoes cut into bite sized pieces
8 ounces package lean bacon, turkey bacon or vegetarian bacon
1 package (10ounces) frozen diced sweet peppers
1 can (15ounces) crushed tomatoes
1/2 cup Spanish olives with pimiento
1/4 teaspoons garlic powder
1/2 teaspoons onion powder
1 to 3 teaspoons chili powder
2 cups water
1-2 tablespoons chopped capers (additional capers can be used for garnish)
Directions
In a large heavy skillet cook bacon or vegetarian bacon until well done and crisp. Remove bacon from skillet and place it on a layer or two of paper towels to drain. Crumbled bacon once it has cooled and set aside.
Pour off the bacon drippings and add the peppers to the same skillet that you cooked the bacon in. Cook for five minutes or until the liquid has evaporated. Add tomatoes, olives, powders, water and potatoes. Bring to a boil and cook, uncovered, for twenty minutes or until fork tender, stirring occasionally. Stir in capers. Let stand for five minutes to allow liquids to absorb. Stir in crumbled bacon. Garnish with additional capers if desired. Serve warm or can be served at room temperature on a bed of green lettuce.
Filed Under:
Potatoes and Sides, Potatoes and Yams, Vegetarian, Camping, RV, Quick and Easy, Kid Friendly, Low Fat, Eating Light, Spanish, Gluten Free, Vegan