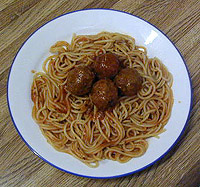 Recipe created by FabFood on

Jul 23, 2007
View more recipes by FabFood.
Prep: –
Cook Time: –
Total: –
Serving: –
Recipe for Spaghetti and Meatballs. Here's a family favorite recipe for spaghetti and meatballs. the sauce and the meatballs can be made ahead and frozen, then reheated for quick dinners on the fly.
Ingredients
Meatballs:
1 pound ground beef
3/4 pound ground pork
3 cloves garlic, minced
2 handfuls of bread crumbs
2 tablespoons dried basil
2-3 handfuls of freshly grated Parmesan cheese
2 eggs
salt and pepper to taste
Sauce:
1 tablespoon olive oil
1 small onion, chopped
1-2 cloves garlic, minced
2 cans (6 ounces each) tomato paste
1 can (15 ounces) tomato sauce
6 tomato paste cans (36 ounces) water
salt and pepper
2 tablespoons dried basil
1 tablespoon dried oregano
1/2 cup freshly grated Parmesan cheese
spaghetti pasta
Directions
For Meatballs
Mix all ingredients together in a bowl. Use hands to thoroughly mix everything together. Form meatballs, approximately 1 1/2\" in diameter, by rolling between your palms. If meat mixture is too wet or sticky, add more bread crumbs to the mix. Makes 35-40 meatballs.
For Sauce Heat oil, onion and garlic. Carefully remove garlic and onion and put in large saucepan. Add water, tomato sauce and tomato paste to garlic and onion. Mix well. Add basil, oregano, and salt and pepper to taste. Add Parmesan cheese and bring to a boil. Reduce heat and simmer. Makes enough sauce for two family size servings (family size = 4 adults or 2 adults and 4 children with leftovers).
The Meal Bring sauce and meatballs to a boil over medium-high heat. Reduce heat to low and simmer for 90 minutes. Meatballs can be simmered as long as 3 hours, the longer they are simmered the better. Fifteen minutes before meatballs are done, cook spaghetti noodles according to package directions. Remove meatballs with a slotted spoon and place in a warm serving dish; set aside. When noodles are done, drain and rinse according to package directions. Pour noodles into serving bowl and toss with a couple of handfuls of freshly grated Parmesan cheese. This adds not only a wonderful flavor to your spaghetti, but it also helps hold the sauce on the noodles. Add enough sauce to coat but do not make your spaghetti swim! Serve topped with meatballs and freshly grated Parmesan cheese.
Mangia! (Eat!)