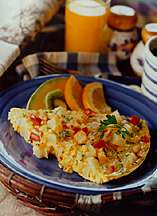 Recipe created by FabFood on

Jul 23, 2007
View more recipes by FabFood.
Prep: –
Cook Time: –
Total: –
Serving: –
Recipe for Southwestern Frittata. Versatile, this dish makes a wonderful breakfast, lunch or even light dinner entree. This one features potatoes, onions, garlic, bell peppers, corn and Monterey Jack cheese.
Ingredients
2 medium (8 ounces) Idaho Potatoes, peeled, diced (2 cups potatoes)
2 tablespoons vegetable oil
1 medium onion, diced
1 red or green bell pepper, seeded and diced
1 clove garlic, minced or pressed
1 cup corn
8 large eggs
1 cup shredded Monterey Jack cheese
2 tablespoons finely chopped cilantro or parsley
1/2 teaspoons salt
1/4 teaspoons black pepper
Directions
In a medium bowl, whisk together eggs, shredded cheese, cilantro or parsley, and salt and pepper. Pour over the potatoes in the skillet. Lower heat and cook uncovered for about 10 minutes or until egg mixture is almost set. Pre-heat broiler.
Place skillet under broiler, about 6 to 8 inches from the heat source. Cook for 1-2 minutes or until eggs are set on top. Serve with crusty bread and a green salad.
For spicier versions substitute hot pepper Monterey Jack cheese for regular and serve with salsa.