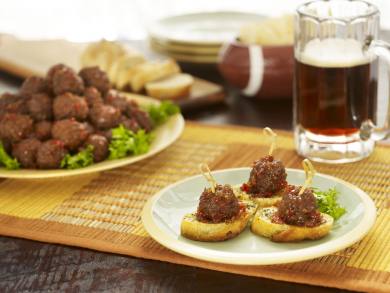 Recipe created by FabFood on

Jan 5, 2011
View more recipes by FabFood.
Prep: –
Cook Time: –
Total: –
Serving: –
Slow Cooker Spicy Game Day Meatballs recipe. Treat your fellow sports fans to this delicious and easy snack. Use your slow cooker to make these meatballs that are perfect for a crowd.
Ingredients
3 lbs Casa Di Bertacchi Italian Meatballs, frozen
2 (12 oz) jars Asian chili sauce
1 (12 oz) jar grape jelly
1/4 cup water
Toasted baguettes or French Bread
Normal 0 false false false EN-US X-NONE X-NONE MicrosoftInternetExplorer4 /*
Directions
Pour frozen meatballs into a slow cooker.
Whisk together chili sauce, grape jelly and water.
Pour mixture over meatballs.
Cook on high for 4 1/2 hours or on low for 5 hours.
Normal 0 false false false EN-US X-NONE X-NONE MicrosoftInternetExplorer4 /* Style Definitions */ table.MsoNormalTable {mso-style-name:"Table Normal"; mso-tstyle-rowband-size:0; mso-tstyle-colband-size:0; mso-style-noshow:yes; mso-style-priority:99; mso-style-qformat:yes; mso-style-parent:""; mso-padding-alt:0in 5.4pt 0in 5.4pt; mso-para-margin:0in; mso-para-margin-bottom:.0001pt; mso-pagination:widow-orphan; font-size:11.0pt; font-family:"Calibri","sans-serif"; mso-ascii-font-family:Calibri; mso-ascii-theme-font:minor-latin; mso-fareast-font-family:"Times New Roman"; mso-fareast-theme-font:minor-fareast; mso-hansi-font-family:Calibri; mso-hansi-theme-font:minor-latin; mso-bidi-font-family:"Times New Roman"; mso-bidi-theme-font:minor-bidi;}