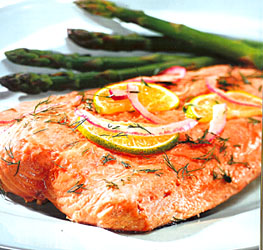 Recipe created by FabFood on

Jul 23, 2007
View more recipes by FabFood.
Prep: –
Cook Time: –
Total: –
Serving: –
Recipe for Slow Cooker Poached Salmon. Serve poached salmon warm or cold, as the focus of an elegant buffet, or as dinner. Making it in the slow cooker makes it easy.
Ingredients
Poaching Liquid:
6 cups water
1 medium onion, chopped
2 stalks celery, chopped
OR
1/2 teaspoon celery seeds
4 sprigs parsley
1/2 cup white wine or freshly squeezed lemon juice
8 wholes black peppercorns
1 bay leaf
Salmon:
1 fillet salmon
lemon slices
springs of fresh parsley or dill
Directions
Serves 6 as a Main Course or 12 to 15 as a Buffet Dish (Nutritional Calculation based on 6 servings)
Recipe works best in a large (minimum 5 quart) slow cooker.
Make Ahead: You can make the poaching liquid before you intend to cook. Cover and refrigerate for up to 2 days.
1. poaching Liquid: In a saucepan, combine water, onion, celery, parsley, white wine, peppercorns, and bay leaf over medium heat. Bring to a boil and simmer for 30 minutes. Strain and discard solids. 2. Salmon: Preheat slow cooker on high for 15 minutes. Fold a 2 foot (60 cm) piece of foil in half lengthwise. Place on bottom and up sides of stoneware, allowing it to overhang the casing a bit. Lay salmon over foil strip. Return poaching liquid to a boil and pour over salmon (see tips below). Cover and cook on high for 1 hour. Remove stoneware from slow cooker. Allow salmon to cool in stoneware for 20 minutes. If serving cold, place stoneware in refrigerator and allow salmon to chill in liquid. When cold, lift out and transfer to a platter. If serving hot, lift out and transfer to a platter. Garnish with lemon slices and fresh parsley sprigs.
Tips:
Make sure that the salmon is completely covered with the poaching liquid. If you do not have sufficient liquid, add water to cover.
When the salmon is cooked, it should feel firm to the touch and the skin should peel off easily.