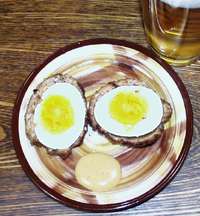 Prep: –
Cook Time: –
Total: –
Serving: –
Recipe for Scotch Eggs. Scotch Eggs are a great way to use leftover easter Eggs. Since they are delicious hot or cold, they make a wonderful addition to a picnic.
Ingredients
6 hard boiled eggs
1 pound spicy sausage meat
1/2 teaspoons dried thyme
1/2 teaspoons dried basil
1/2 cup flour, divided
1 cup breadcrumbs
1 teaspoon salt
2 teaspoons pepper
1 teaspoon paprika
2 eggs, beaten
oil for frying
Directions
Peel the eggs and set aside. Mix sausage and spices in a small bowl. Divide sausage into 6 equal portions, set aside. Mix breadcrumbs with salt, pepper and paprika, set aside.
Dry each egg with a paper towel, then roll lightly in flour to coat. Take one portion of sausage and using hands, shape a coating around the hard boiled egg, completely enclosing it (see photos). Roll in flour again, then dip in beaten egg then roll in breadcrumb mixture. Repeat with remaining eggs.
Heat about 2-3 inches of oil in a large skillet. Fry eggs, turning frequently, until golden brown on all sides. Drain on paper towels. Let cool slightly before serving. To serve, cut each in half and serve with some good mustard.