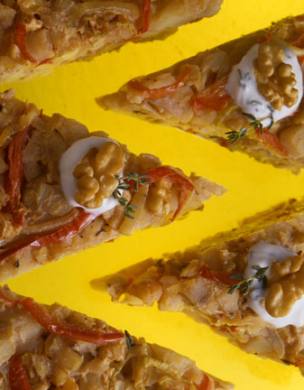 Recipe created by FabFood on

Oct 29, 2008
View more recipes by FabFood.
Prep: –
Cook Time: –
Total: –
Serving: –
Recipe for Savory Potato Walnut Cake. The name says it all - this is a savory, potato cake with walnuts - the perfect appetizer to serve hot or at room temperature.
Ingredients
4-5 medium-sized red-skinned boiling potatoes or Yukon Gold potatoes (about 1 1/4 pounds)
1 tablespoon olive oil
1 medium yellow onion, sliced
1 red bell peppers, halved, seeded and sliced
2 cloves garlic, chopped
3/4  cup  walnuts
1 1/2 tablespoons chopped fresh thyme OR 1 1/2teaspoons dried thyme
salt and pepper to taste
2 large egg whites, lightly beaten
1 cup nonfat plain yogurt
Directions
Place the potatoes in a steamer basket in a large pan over boiling water. Cover the pan and steam until the potatoes are just tender when pierced, 20-30 minutes, depending on size. Let the potatoes cool, then chop them coarsely. Transfer to a large bowl and set aside.
Preheat the oven to 400ºF. Coat a 9-inch round cake pan with nonstick cooking spray, then line the bottom with a round of parchment paper, cut to fit. Coat the parchment lightly with nonstick cooking spray as well.
Place a large nonstick skillet over medium-high heat. Add the olive oil, onion, pepper and garlic and cook, stirring occasionally, until the vegetables are tender and wilted, about 10 minutes. Add the walnuts along with 1 tablespoon fresh thyme or 1 teaspoon dried, and cook about 1 minute longer.
Add to the bowl with the potatoes and stir to combine. Season with salt and pepper to taste. Add the egg whites and stir briskly with a fork until evenly mixed. Press and pat the mixture evenly in the prepared pan. Bake until the potato cake is dry on top and firm to the touch, 30-35 minutes. Remove from the oven and cool 10 minutes. Slide a table knife around the edge of the pan, then shake the pan to loosen the cake. Invert onto a serving plate, then lift off the pan and peel away the parchment paper.
Meanwhile, stir the yogurt together with the remaining thyme. Cut the potato cake into 8 wedges and serve warm or at room temperature. Top each wedge with some of the yogurt sauce.
Nutrition Information per serving: Calories180, total fat 9g, saturated fat 1g, monounsaturated fat 2g, polyunsaturated fat 6g, trans fat 0g, cholesterol 1mg, sodium 41mg, total carbohydrate 20g, dietary fiber 3g protein 6g.
Filed Under:
Savory Pies, Potatoes and Yams, Vegetarian, Picnics, Make Ahead, Kid Friendly, Low Fat, Eating Light, New Year's, Thanksgiving, Christmas, Diabetic, Vegetable