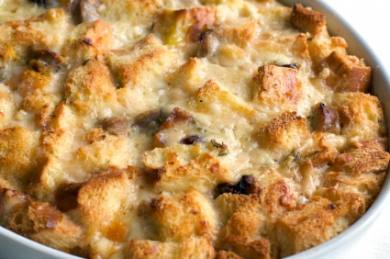 Recipe created by FabFood on

Jul 23, 2007
View more recipes by FabFood.
Prep: –
Cook Time: –
Total: –
Serving: –
Recipe for Savory Breakfast Bread Pudding. This innovative recipe comes to us from Zinfandel, a wonderful Chicago restaurant where Chef Susan Goss specializes in authentic American regional cuisine
Ingredients
1 1/2 pounds loaf Farmhouse Bread, crusts trimmed
1/3 pound ham, shaved
4 cups cheddar cheese, shredded
1/2 cup chopped chives
1/2 cup fresh basil, chopped
8 large eggs
4 cup whole milk
2 tablespoons grainy style mustard
1 tablespoon kosher salt, or to taste
2 teaspoons black pepper, or to taste
Directions
Slice bread into long slices, about 1/3" thick. You should have 6 or 7 slices. Arrange 3 of the slices in one layer in the buttered pan. Top with half the ham. Cover with half the cheese ad half the herbs. Arrange 3 more slices of bread over this (it doesn't matter of the bread doesn't fit snugly, although you can use the extra slice to fill in any gaps). Arrange remaining ham, cheese and herbs over bread.
In a mixing bowl, whisk eggs until combined. Add milk, mustard, salt and pepper and whisk until light and frothy. Pour egg mixture evenly over bread, using the entire mixture. Cover with plastic wrap and refrigerate overnight.
When ready to bake, pre-heat oven to 325° F. bake the pudding on the bottom rack in the pre-heated oven for 1 1/2 hours until puffed and browned. Let pudding rest for 15 minutes before cutting into squares.
Filed Under:
Eggs, Casseroles, Other, RV, Make Ahead, Kid Friendly, New Year's, Easter, Mother's Day, Father's Day, Christmas, Egg Main Courses