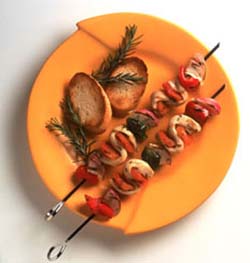 Recipe created by FabFood on

Jun 24, 2010
View more recipes by FabFood.
Prep: –
Cook Time: –
Total: –
Serving: –
Give your grill a break from burgers and hot dogs. Fire up the coals for these tender, fruity kabobs with a garlic-herb marinade.
Ingredients
Kabobs:
4 boned and skinned chicken breast halves
1 package (6-oz.) Sun-Maid apricots (32 halves)*
1 large red or green bell pepper
1/2 medium red onion
1/4 teaspoon salt
Marinade:
1 cup white wine (use a fruity wine such as Riesling)
1/4 cup lemon juice
3 tablespoons olive oil
2 tablespoons white wine vinegar
2 cloves minced garlic
1-1/2 teaspoons thyme leaves
1-1/2 teaspoons rosemary leaves
1/2 teaspoon grated lemon peel
Directions
Combine marinade ingredients; divide in half and place in 2 medium bowls (or 2 large plastic zip-top bags)
Cut each chicken breast lengthwise into 4 strips to make a total of 16 strips
Place chicken in one bowl of marinade and apricots in the other
Cover and refrigerate for 24 hours, turning occasionally
Drain chicken and apricots; discard marinade. Sprinkle salt on chicken
Cut bell pepper and onion into 1-inch squares
Thread each skewer in the following order: 1 pepper, 1 onion, 1 chicken strip, loosely wrapped "s" fashion around 2 apricot halves; repeat; finish with 1 pepper and 1 onion
Grill or broil 5 inches from heat for 8 minutes or until chicken is cooked through, turning every 2 to 3 minutes
Note* Or use 32 pieces (about one 8-oz. package) Sun-Maid Dried Mixed Fruit. Cut pears in half and fold large apple pieces in half to skewer.