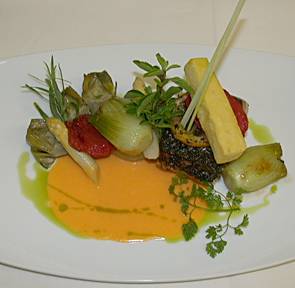 Recipe created by FabFood on

Jul 23, 2007
View more recipes by FabFood.
Prep: –
Cook Time: –
Total: –
Serving: –
Recipe for Chef Patrick Ponsaty's Chilean Seabass with Panisse. This recipe has lots of little steps and details. Nonetheless, it isn't difficult to accomplish.
Ingredients
Sauce:
1 cup white wine
2 ounces ginger, grated
1 large shallot
1 stalk fresh lemongrass
3 large peels of lemon zest
1/2 cup cream
1/2 pound butter
juice of 1/2 lemon
1/2 cup red pepper puree (see links below for recipe)
Panisse:
1 cup garbanzo bean flour
3 tablespoons olive oil
1 quart water pinch
salt and pepper
additional olive oil for frying
Fish:
2-3 tablespoons clarified butter
6 ounce Chilean seabass filet and halibut filet
Veggies: (per person)
2-3 baby artichoke hearts
1 small baby fennel bulb
1 small ciopollini onion
2 spears of white asparagus
2 baby zucchini blossoms
Garnish:
parsley oil (see links below for recipe)
fresh tarragon
fresh chervil
Directions
Recipe makes 1 serving, add more vegetables and fish for additional servings.
Before beginning, prepare some red pepper purée and parsley oil for garnish. The parsley oil can easily be omitted from this recipe and you'll still get great results, but to do it like the pros, take a few minutes and prepare the delicious bright green oil. You'll find lots of other uses for it besides this one -- salad dressings come immediately to mind. You could also skip making the panisse, as this is an extra addition to this dish, but you'd be missing something delicious.
Preheat the oven to 375°F.
Mise En Place -- Chef Patrick gathered ingredients for the sauce (photo 1), the dish itself (photo 2), and the panisse (photo 3) before beginning to cook.
Let's prepare the sauce
In a small skillet over high heat, add the wine, grated ginger, thyme, lemongrass stalk and shallot (3).
Add in three generous peels of lemon zest (4). Make sure when cutting the lemon zest that you get only the outer most yellow portion of the lemon -- this is where the essential oil, and likewise the flavor is stored. The white pith under the lemon's yellow skin is bitter, so take only a thin shaving.
Cook the mixture until it is reduced by half, then add in the cream (5). Reduce the cream mixture until it is almost dry -- watch carefully, you don't want to burn the pan or have it become completely dry.
1. 2. 3. 4. 5. 6. 7. 8.
whisk in the butter (6) until melted and combined (7). Let the sauce sit and cool for about 5 minutes, then strain it (8). Stir in the red pepper puree and lemon juice. Set aside and keep warm.
Now it's time to make the panisse
Oil a 4X8 rectangular baking dish and line the bottom with parchment paper. In a large pot, whisk together the garbanzo bean flour (11), water and oil. Cook over medium-high heat, whisking constantly, until thick and smooth. Spread the mixture in the prepared pan (12) and chill until firm.
Remove chilled panisse and cut into thick "French fry" shaped pieces. Heat olive oil until very hot and fry panisse pieces until lightly browned, about 5 minutes. Drain on a wire rack and keep warm.
Now prepare the fish
Heat clarified butter over high heat in an oven proof skillet until very hot (the amount you use will depend on how many fish filets you are cooking. Sprinkle salt and pepper on both sides of the fish. Place filet in the hot pan. Top with a thin slice of lemon, a spring of fresh thyme and a generous pat of butter. Cook for a minute, to brown the bottom then turn fish over (16). Place the skillet in the preheated oven and roast the fish for about 7 minutes or until done (fish will start to flake with a fork when properly cooked). Remove fish from the oven and spoon the brown melted butter in the pan over the filet. Set aside and keep warm.
Prepare the vegetables
18. 19. 20.
Heat a small amount of olive oil in an oven proof skillet. Add the zucchini blossoms and turn to coat (18), place in oven to roast zucchini.
Trim the stems and tough outer leaves of the baby artichokes (19) so you are left with a small bulb that's completely edible. Trim the tough ends off the white asapragus, trim fennel leaves so you are left with just the white bulb (the leaves make great garnishes). Heat a tablespoon or two of olive oil in a large skillet, saute the vegetables until they are slightly browned (20).
21. 22.
Add enough chicken stock to just cover the veggies (21) and bring to a simmer. Chef Patrick then showed us a great technique for cooking the vegetables. He cut a donut shaped circle of parchment paper (22) which he placed over the veggies (the hole let's the steam escape).
To plate the dish, spread about 1/4 cup of sauce on a serving plate. Arrange the veggies around the side of the dish. Spoon more of the browned butter over the fish, then arrange the fish on plate as in the photo at the top of the page. Place panisse fries on top of the fish. Drizzle a bit of parsley oil around the edges of the sauce and garnish with fresh herbs and additional lemongrass stalks.
9. 10. 11. 12. 13. 14. 15. 16. 17.