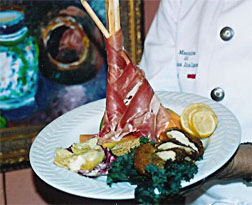 Recipe created by FabFood on

Jul 23, 2007
View more recipes by FabFood.
Prep: –
Cook Time: –
Total: –
Serving: –
Recipe for Chef Carlo Gislimberti's Prosciutto and Melon Teepees. This dish showcases classic Italian ingredients in an homage to Chef Carlo's adopted Southwest hometown.
Ingredients
Mushrooms*:
2 large porcini mushroom caps (fresh or frozen) or 1 medium portobello cap
1 egg
1 cup breadcrumbs
1/3 cup grated Parmesan cheese
1/8 teaspoon nutmeg
1/4 teaspoon dressily grated black pepper
5-6 thin slices Parma prosciutto (Italian ham)
2-4 artichoke hearts
3 long, thin, crispy breadsticks
3 crescent shaped pieces of melon (we used cantaloupe), cut along rind for half of crescent (see below)
olive oil
1-2 leaves radicchio, kale or other greens for garnish
lemon for garnish
Directions
1.
Note: In the restaurant and in these photos, Chef Carlo uses frozen Porcini mushrooms that he picks and freezes himself (photo 1). He says trimming wild mushrooms is the key to properly freezing them so they don't accumulate excess water. Everything must be the same thickness and flash freezing is important. So refined are his mycological preserving techniques, guests at Villa Fontana would never guess they are eating mushrooms that had previously been frozen or dried.
Porcinis are difficult, if not impossible, for the average home cook to find (and you should never eat wild mushrooms unless, like Chef Carlo, you are an expert at identifying edible varieties -- the consequences can be deadly).
Most people will want to use Portobello mushrooms for this dish. Use a spoon and scrape out the brown gills before beginning (this is strictly for presentation's sake -- the brown gills can turn food around the mushrooms black).
*Of course, you could skip the mushrooms altogether in this recipe and still have a tasty, stunning appetizer.
Prepare the Sautéed mushrooms
2. 3. 4.
Cut stems off mushroom(s). Mix the breadcrumbs and Parmesan cheese, set aside. Beat eggs with pepper and nutmeg (photo 2).
In a small skillet, heat olive oil over medium-high heat. Dip mushroom caps first in egg mixture, then in breadcrumbs, turning to coat. Sauté in hot olive oil until golden brown (photo 3) -- about 1 1/2 - 2 minutes per side.
Remove with a spatula and drain on paper towels or a wire rack (photo 4).
Once cool enough to handle, slice the mushrooms caps crosswise (photo 5).
Assemble Teepees
Place greens on serving plate and arrange 3 cantaloupe pieces in a circle as shown. Place a bread stick in each of the cuts that go halfway along the rind line of the three melon slices, crossing the sticks at the top to form the teepee frame (photo 6).
Starting at the top of the teepee, begin wrapping the slices of prosciutto around the breadstick base (photo 7). Continue wrapping the prosciutto around the breadsticks until the entire teepee is covered (photo 8).
For the finished photo at the top of this page, chef Carlo arranges the marinated artichoke hearts and sautéed mushrooms on the plate. At the restaurant, he usually hides them inside the prosciutto teepee -- a gastronomic surprise for his guests to discover.
5. 6. 7. 8.
Filed Under:
Meat, Meat and Seafood, Fruit, Camping, RV, New Year's, Valentines Day, Easter, Mother's Day, Father's Day, Italian