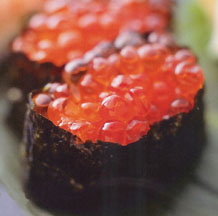 Recipe created by FabFood on

Jul 23, 2007
View more recipes by FabFood.
Prep: –
Cook Time: –
Total: –
Serving: –
Recipe for Salmon Roe Battleship Sushi -- Ikura. Salmon Roe is a big hit around the world for its rich flavor and this easy sushi has just four ingredients.
Ingredients
1 cup prepared sushi rice
1 sheet nori
3/4 teaspoon wasabi paste, or to taste
4 ounces salmon roe (ikura)
Directions
1. Prepare 8 finger sushi by dipping your right hand into a bowl of vinegared water and then tap your fingers on a damp towel to remove excess water, and take up about 2 tablespoons sushi rice. Form the rice into 8 small oval bite-sized portions, measuring about 2 inches long by 1 inch wide.
2. Cut the nori into 8 strips, each 1 inch X 7 inches.
3. Wrap a 1 inch strip of nori around the sides of each finger sushi, shiny side out (sticking it closed with a grain of rice, if necessary), creating a tiny collar all around the rice.
4. Dab a little wasabi paste on top of the rice inside the nori collar. Delicately spoon about 1 tablespoon of the salmon roe into each nori collar. Serve immediately while the nori is crisp.
Per piece:
Calories 64 (From Fat 13); Fat 1g (Saturated 1g); Cholesterol 49mg; Sodium 34 mg; Carbohydrates 7g; Dietary Fiber 0g; Protein 3g.
Filed Under:
Seafood, Fish, Sushi, Camping, RV, Picnics, Low Carb, Low Fat, Eating Light, New Year's, Valentines Day, Finger Foods, Japanese