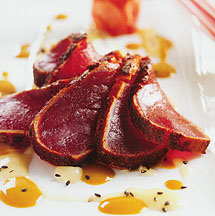 Recipe created by FabFood on

Jul 23, 2007
View more recipes by FabFood.
Prep: –
Cook Time: –
Total: –
Serving: –
Recipe for Roy's Signature Blackened Ahi with Soy Mustard Sauce. This is one of the most popular appetizers from Chef Roy Yamaguchi's restaurants.
Ingredients
Soy-Mustard Sauce:
1/4 cup mustard powder, preferably Coleman's®
2 tablespoons hot water
2 tablespoons rice wine vinegar
1/4 cup soy sauce
Blackening Spice:
1 1/2 tablespoons paprika
1/2 tablespoon cayenne pepper
1/2 tablespoon pure chile powder
1/4 tablespoon freshly ground white pepper
1/2 tablespoon ground sandalwood (optional)
8 ounces ahi tuna filet, about 2 inches thick and 5 inches long
2 tablespoons olive oil
3/4 cup warm beurre blanc sauce (see recipe links below)
Garnish:
2 to 3 tablespoons pink pickled ginger
1/2 tablespoon black sesame seeds, toasted
1 ounce daikon sprouts
Directions
Serves 4 as an Appetizer
To prepare the mustard sauce, mix the mustard powder and hot water together in a cup to form a paste. Let sit for a few minutes to allow the flavor and heat to develop. Add the vinegar and soy sauce, mix together, and pass through a fine mesh sieve into a bowl. Cover and refrigerate for at least 1 hour to allow the flavors to develop.
Prepare the beurre blanc and warm in the top of a double boiler.
Mix all of the blackening spice ingredients together on a plate. Dredge the ahi in the spice mixture on all sides.
Heat the olive oil in a skillet over high heat and sear the ahi for 15 to 30 seconds on each side for rare, 1 minutes on each side for medium-rare, or to the desired doneness. Remove the ahi and cut into 20 thin slices.
For each serving arrange 5 slices of ahi in a fan, pinwheel, or cross shape on the plate. Spoon or drizzle a little of the soy mustard sauce around the tuna, and then spoon or drizzle the beurre blanc around. To garnish, arrange a small mound of the pickled ginger next to the fish and top with the daikon sprouts. Sprinkle the sesame seeds over the soy-mustard sauce.