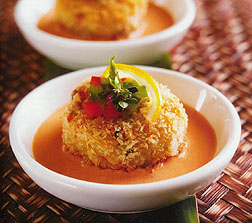 Recipe created by FabFood on

Jul 23, 2007
View more recipes by FabFood.
Prep: –
Cook Time: –
Total: –
Serving: –
Recipe for Roy's Crab Cakes with Lobster Cream Sauce. This is a crisp light crab cake rather than a heavy version where the panko crusting makes all the difference.
Ingredients
Lobster Cream Sauce:
2 lobster shells and heads, chopped into quarters
1/4 cup olive oil
1/2 cup yellow onion
1/2 cup chopped carrot
1/2 cup chopped celery
2 cloves garlic
2 sprigs basil
1 bay leaf
1 Roman tomato, chopped
1/4 cup dry white wine
2 cups water
2 cups heavy cream
salt and freshly ground white pepper
Crab Cakes:
3 tablespoons unsalted butter
1/2 tablespoon minced garlic
3 tablespoons minced onion
3 tablespoons red bell pepper
3 tablespoons green bell pepper
3 tablespoons minced celery
3 tablespoons minced carrot
2 tablespoons minced fresh basil
6 tablespoons heavy cream
salt and freshly ground white pepper
1 1/2 pounds fresh lump crabmeat, preferably Kona crab, picked over for shell
1/2 cup all-purpose flour
2 cups panko (Japanese bread crumbs)
2 large eggs
1 cup peanut oil
1/2 each red and green bell pepper, seeded, deribbed, and finely diced
4 strips lemon zest
4 small basil springs
Directions
Serves 4 as an Appetizer
Preheat the oven to 350° F.
To prepare the sauce, place the lobster heads and shells in a roasting pan and roast in the oven for about 15 minutes or until orange and slightly browned. Remove and set aside. heat the olive oil in a large, heavy saucepan over medium-high heat. Add the onion, carrot, and celery and sauté for 2 minutes. Add the garlic, basil, bay leaf, tomato and roasted lobster heads. Add the white wine, stir to deglaze the pan, and cook for 1 minute. Add the water, bring to a simmer, and decrease the heat to low. Cook at a low simmer for 15 minutes. Increase the heat to high and cook to reduce the liquid by three-quarters. Add the cream and cook for 10 minutes longer, until slightly thick. Remove the pan from the heat and strain the liquid into a clean saucepan, pressing down on the solids with a wooden spoon to extract as much of the liquid as possible. Set over medium heat and cook for about 10 minutes, or until sauce is thick enough to coat the back of a spoon. Season with salt and pepper to taste. Remove from the heat and let cool. Cover and refrigerate.
While the sauce is cooking, prepare the crab cakes. Melt the butter in a large sauté pan or skillet over medium-high heat. Add the garlic and onion and sauté for about 1 minute, or until golden brown. Add the red and green bell pepper, celery, carrot, and basil and sauté for 1 minute longer. Add the cream and continue cooking until the liquid is reduced by half. Season with salt and pepper to taste and transfer to a nonreactive bowl. Let cool. Cover and refrigerate for 1 hour.
Add the crabmeat to the chilled mixture and stir thoroughly. Form into 8 balls and squeeze gently to remove any excess liquid, then form the balls into patties. Place the flour and panko on separate plates and beat the eggs in a shallow bowl. Lightly coat the crab cakes in the flour, then in the egg, and finally in the panko. Heat the oil peanut oil in a heavy skillet or sauté pan over medium heat until it reached 350° F. Add the crab cakes and sauté for about 1 1/2 minutes on each side, or until evenly browned. Warm the sauce over low heat and ladle onto serving plates. Serve 2 crab cakes per person. Garnish with the red and green bell pepper and lemon zest. Top with a basil sprig.