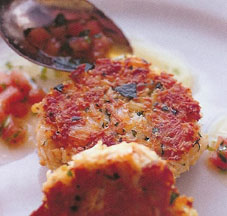 Prep: –
Cook Time: –
Total: –
Serving: –
Recipe for Rick Stein's Maryland Crab Cakes with Tarragon and Butter Sauce. Here is seafood expert Rick Stein's version of this classic Marlyland crab dish.
Ingredients
Maryland Crab Cakes
1 pound (450g) fresh white crabmeat (about 3 cups)
1/2 cup (40g) finely crushed saltine crackers
1 egg, beaten
2 tablespoons mayonnaise
1 tablespoon English mustard powder
1 tablespoon lemon juice
dash of Worcestershire sauce
2 tablespoons chopped flat leaf parsley
1/4 cup clarified butter*
salt and freshly ground black pepper
Tarragon and Butter Sauce
1/4 cup white wine vinegar
1/4 cup clarified butter*
1 plum tomato, skinned, seeded and diced
1 teaspoon chopped tarragon
Directions
1. Put the crabmeat into a bowl and add just enough of the cracker crumbs to absorb any moisture from the crab. (You may need to add them all.)
2. Break the egg into a small bowl and whisk in the mayonnaise, mustard, lemon juice, Worcestershire sauce, and some seasoning. Fold this mixture into the crabmeat, taking care not to break up lumps of crab too much. Stir in the parsley. Shape the mixture into eight 3-inch (7.5 cm) patties. Put them on a plate and cover with plastic wrap, and chill for at least 1 hour.
3. Heat the clarified butter in a large frying pan. Add the crab cakes (in 2 batches if necessary) and cook over medium heat for 2 to 3 minutes on each side, until crisp and richly golden. Keep the first batch warm, if you need to, while cooking the second batch.
4. Meanwhile, for the sauce, boil the vinegar in a small pan until reduced to about 2 tablespoons. Add the clarified butter, dived tomato, chopped tomato and some salt and pepper to taste, and heat to warm through. Serve with the crab cakes.
* clarified butter is less likely to burn than whole butter, which makes it ideal for sautéeing food which must be cooked quickly over high heat. To make clarified butter place pieces of butter in a small saucepan and slowly bring it to a boil. When the butter has nearly stopped crackling, it has been clarified. Keep a constant watch on the butter, as you do not want it to brown or burn. Strain the melted butter into a covered glass container (the strainer will catch the milk solids). You can store clarified butter in the refrigerator or freezer for several months.