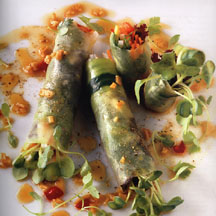 Recipe created by FabFood on

Jul 23, 2007
View more recipes by FabFood.
Prep: –
Cook Time: –
Total: –
Serving: –
Recipe for Raw Foods Cucumber Summer Rolls. These incredibly refreshing Summer Rolls work wonderful either as plated appetizer or passed hors d'oeuvres.
Ingredients
Marinade:
1/2 cup white shoyu*
2 tablespoons plus 2 teaspoons freshly squeezed lemon juice
2 tablespoons minced, peeled fresh ginger
1 clove garlic, minced
1 red Thai chile, seeded and minced
2 teaspoons maple syrup
freshly ground pepper
Summer Rolls:
2 English cucumbers, each at least 12 inches long, peeled
1/2 avocado, peeled and julienned
1/2 carrot, 3-4 inches long, peeled and julienned
1 small red pepper, peeled and julienned
1 small young Thai coconut, meat julienned
1 cup red oak-leaf lettuce, torn into tiny pieces
2 tablespoons finely julienned fresh ginger
2 tablespoons fresh cilantro leaves, torn
1 tablespoon cold pressed sesame oil
Celtic sea salt and freshly ground pepper
1/2 cup Daikon sprouts
Garnish:
1 tablespoon chile-infused cold pressed sesame oil
2 tablespoons micro celery sprouts
freshly ground pepper
* soy sauce made with a larger proportion of wheat than regular shoyu
Directions
Method -- To make the marinade:
To make the summer roles: Cut each cucumber crosswise into three 4-inch long logs. Using a mandoline, cut the cucumber logs lengthwise into a total of 48 paper thin slices. Lay 4 of the slices side by side, overlapping them slightly to form a 6-inch square. Repeat to make 12 squares in all.
Combine the avocado, carrot, bell pepper, coconut meat, lettuce, ginger, cilantro, cold-pressed sesame oil, and 1/4 cup marinade in a bowl and toss to mix. Season to taste with salt and pepper.
Working with 1 cucumber square at a time, lay it on a flat work surface. Spoon 1/12 of the vegetable mixture along the bottom third of the square. Arrange some of the daikon sprouts at one end of the vegetable mixture and keeping the sprouts visible at the end. Repeat to make 12 rolls in all. Cut the 4 cucumber rolls in half.
Assembly: Lay 2 Summer Rolls in the center of each plate and arrange the 2 halves of one of the cut rolls to one side. Spoon the remaining marinade and the chile infused sesame oil around and over the rolls. Sprinkle with celery sprouts and top with pepper.
Combine the shoyu, lemon juice, ginger, garlic, chile and maple syrup in a bowl and whisk to mix. Season to taste with pepper wine Notes:
The amount of spiciness, or heat, in this dish directs the wine choice. The chiles and ginger overpower dry Alsatian Rieslings, while their counterparts in Mossel-Saar-Ruwer have enough sweetness to hold the spices in check. Spatlese Rieslings from Fritz Haag are light in body, preventing them from overwhelming the course. Haag's wines never touch new oak, and this steeeliness highlights the earthy, mineral flavors of cucumbers and other vegetables.
Filed Under:
Hors, Snacks, Other, Vegetarian, RV, Low Carb, Low Fat, Eating Light, Mother's Day, Father's Day, Fourth of July, Finger Foods, Vegetable, Vegan