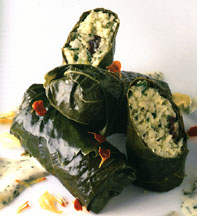 Recipe created by FabFood on

Jul 23, 2007
View more recipes by FabFood.
Prep: –
Cook Time: –
Total: –
Serving: –
Recipe for raw Dolmas with Dill Sour Cream Sauce and Garlic Chips. The appealing filling is further enhanced by the addition of garlic, lemon and dried currants.
Ingredients
Filling:
1/2 cup minced onion
2 cups peeled, cored, and chopped parsnip
1/4 cup raw pine nuts
1 clove garlic
1/4 cup chopped celery
2 tablespoons freshly squeezed lemon juice
1/2 cup minced fresh parsley
1/4 cup firmly packed, finely chopped fresh Italian parsley
1/4 cup firmly packed chopped fresh mint
1 1/2 teaspoons Celtic sea salt
1/2 teaspoon grated lemon zest
1/3 cup dried currants, soaked for 1 hour in filtered water, drained, and patted dry
1/4 cup extra virgin olive oil
1 teaspoon minced garlic
2 teaspoons freshly squeezed lemon juice
12 brine cured grape leaves, soaked for 2 hours in filtered water, drained and patted dry
Dill-Sour Cream Sauce:
2 cups sour cream
1/4 cup freshly squeezed lemon juice
1/4 cup extra-virgin olive oil
1/2 cup chopped fresh dill
1/4 cup chopped fresh mint
2 serrano chiles, minced
Celtic sea salt and freshly ground pepper
4 teaspoons garlic chips (click links below for recipe)
4 teaspoons chopped marigold petals
Directions
Method -- To make the filling:
In a food processor, pulse the parsnip until it forms rice-like pieces. Transfer the parsnip to a bowl.
In a high speed blender, combine the pine nuts, garlic, celery and lemon juice and process until creamy. Add the mixture to the parsnip. Stir in the dehydrated onion, parsley, mint, salt, lemon zest and currants.
To make the dolmas: Combine the olive oil, garlic, and lemon juice in a small bowl and mix well.
Place 1 grape leaf, stem side up, on a work surface. Brush with some of the oil mixture. Place one-twelfth the filling near the base of the leaf. Roll up like a cigar, tucking in the sides as you go. Make sure the roll is good and firm. Brush the roll with some of the oil mixture. Set aside. Repeat to make 12 rolls in all.
To make the dill- sour cream sauce: Combine the sour cream, lemon juice, olive oil, dill, mint and chiles in a bowl and stir to combine. Season to taste with salt and pepper.
Assembly: Cut 4 of the dolmas in half on the diagonal. Trim the ends if necessary for them to stand upright. Spoon some of the dill-sour cream sauce around the plates and place 1 cut piece of dolma at 12 o'clock, and one cut piece at 4 o'clock. Lay 2 whole dolmas, overlapping them, in the center of the plate. Sprinkle with garlic chips and marigold petals.
Spread the onion on a non-stick drying sheet on a dehydrator shelf and dehydrate wine notes:
The main flavors to contend with here are dill, lemon juice and sour cream. Sauvignon Blanc is the perfect complement for the green tastes from the dill and the zing from the lemon juice, but the dill-sour cream Sauce requires a full bodied wine. A blend of Semillon and Sauvignon Blanc, a classic white Bordeaux page, will handle all of the elements. Chateau Talbot's Caillou Blanc or an Australian choice like Cullen's Cuvee Ephraim Clarke works beautifully with the dish.
Filed Under:
Hors, Vegetable Dishes, Vegetarian, Camping, RV, Low Carb, Low Fat, New Year's, Valentines Day, Finger Foods, Vegetable, Greek