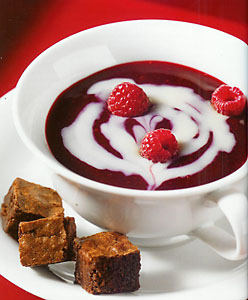 Prep: –
Cook Time: –
Total: –
Serving: –
Recipe for Raspberry and White Chocolate Swirl Soup with Brownie Croutons. Tart and sweet raspberry soup is matched perfectly with the rich creaminess of white chocolate.
Ingredients
Brownie Croutons:
6 tablespoons unsalted butter
4 ounces bittersweet or semisweet chocolate, chopped
2 ounces unsweetened chocolate, chopped
3/4 cup granulated sugar
1 teaspoons vanilla extract
1/4 teaspoon salt
2 eggs
1/2 cup all-purpose flour
Soup:
2 packages (12 ounces each) frozen raspberries (about 3 cups)
1 1/4 cus water
1/2 granulated sugar
1/2 seedless raspberry jam
2 tablespoons Grand Marnier, divided
1/2 cup whipping cream
4 ounces white chocolate, chopped
Directions
Prepare brownie Croutons: (makes 4 cups croutons, enough to garnish 9 servings)
1. Preheat oven to 325°. Line an 8-inch baking pan with foil and butter the foil.
2. In a saucepan over low heat, whisk butter and chocolates until smooth.  Remove from heat and whisk in sugar, vanilla, and salt.  whisk in eggs, one at a time, then fold in flour.  Spread evenly in prepared pan.
3. Bake in preheated oven until a tester inserted into the center comes out with moist crumbs attached, about 30 minutes.  Let cool in pan on a wire rack.
4. Turn an upside down onto a cutting board and remove pan and foil.  Using a serrated knife, cut cake into 1/2-inch squares.
Tip:
Store croutons in an airtight container at room temperature for up to 1 day.
Prepare Soup:
1. In a small saucepan, bring raspberries, water and sugar to a boil over medium heat.  Reduce heat and simmer, stirring occasionally, until sugar is dissolved and raspberries ave softened or broken down, about 4 minutes.
2. In a food processor or blender, puree raspberry miture, jam, and 1 tablespoon of the Grand Marnier until smooth.  Strain into a large bowl, cover, and refrigerate until chilled, about 3 hours.
3. In another saucepan, bring cream to a simmer over medium-high heat.  Remove from heat and add white chocolate.  let stand for 2 minutes, then whisk until melted and smooth.  Stir in remaining Grand Marnier.  Let cool.
4. Ladle raspberry soup into chilled shallow bowls.  Gently drop 5 to 6 spoonfuls of the white chocolate mixture onto the soup.  Draw a chopstick or knife through the chocolate mixture to create a marbled effect.  Serve with brownie croutons.
Tip:
The soups can be prepared through Step 2 up to 1 day in advance.
Tip:
To toast coconut, add it to a dry skillet and cook over medium heat, stirring constantly, until golden brown.  Transfer to a heatproof plate to cool.
Filed Under:
Fruit, Other, Cold Soups, Dessert Soups, Vegetarian, Make Ahead, Kid Friendly, New Year's, Valentines Day, Easter, Mother's Day, Father's Day