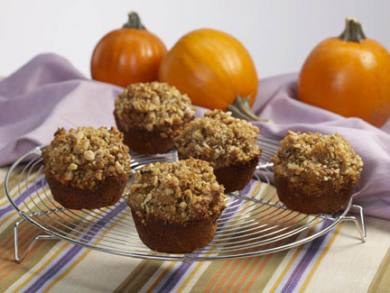 Recipe created by FabFood on

Oct 29, 2008
View more recipes by FabFood.
Prep: –
Cook Time: –
Total: –
Serving: –
Recipe for Pumpkin Walnut Bran Muffins. This recipe creates dense, moist muffins. The optional toppings provide fun ways to dress up these muffins for special occasions.
Ingredients
2 1/2 cups raisin bran flake cereal
1/2 can (15 oz.) pumpkin (about 3/4 cup plus 2 tablespoons)
1/4 cup milk
2 large eggs
2 tablespoons canola oil
1 cup all-purpose flour
1/2 cup packed brown sugar
2 teaspoons baking powder
1 1/2 teaspoons cinnamon
1/4 teaspoon allspice
1/8 teaspoon nutmeg
1/2 cup chopped walnuts
Directions
Preheat oven to 400ºF. Line a 12-cup muffin pan with paper liners.
In a large bowl, stir together cereal, pumpkin, milk, eggs and oil. In a medium bowl, stir flour, brown sugar, baking powder and spices until well combined. Stir flour mixture and walnuts into pumpkin mixture. Scoop batter into muffin cups. If desired, add cheese filling and walnut crunch as directed below.
Bake 25 minutes or until toothpick inserted through side of muffin top comes out clean.
Variations:Pumpkin Cream Cheese Muffins: 1/4 cup Cream Cheese 1/4cup powdered sugar 1/4 teaspoon vanilla extract Combine all ingredients. Place a heaping teaspoon of filling on top of muffin batter before baking. Top with Walnut Crunch, if desired.
Walnut Crunch Muffins:1/4 cup packed brown sugar1/4 cup chopped  walnuts 1 1/2 teaspoons butter Combine all ingredients. Sprinkle on top of muffin batter before baking.
Nutrition information per serving: 190 calories, 4g protein, 29g carbohydrates, 3g fiber, 160mg sodium, 7g total fat, 1g saturated fat.
Filed Under:
Quick, Muffins and Scones, Baked Goods, Vegetarian, RV, Picnics, Gifts, Brown Bagging, Make Ahead, Kid Friendly, Low Fat, Eating Light, Halloween, Thanksgiving, Christmas, Diabetic, Restaurant Recipes