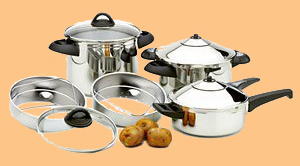 Recipe created by FabFood on

Jul 23, 2007
View more recipes by FabFood.
Prep: –
Cook Time: –
Total: –
Serving: –
Recipe for Pressure Cooker Navy Bean Soup. Beans are a perfect match for pressure cooking. This hearty soup will be perfect every time.
Ingredients
1 pound navy or white beans, picked over
2 tablespoons olive oil
3 garlic cloves, minced
1 large onion, chopped 1 smoked ham hock 1 carrot, peeled and chopped
1 celery stalk, chopped
2 teaspoons dried oregano
6 cups chicken or vegetable stock salt and pepperto taste
Directions
Rinse the beans and soak overnight or use a quick soak method (bring water to a boil, turn off heat and let beans sit for an hour or so before continuing).
Heat the oil in the bottom of a pressure cooker over medium-high heat. Add the onion and cook, stirring occasionally, until light brown - about 3 to 5 minutes.
Add the remaining ingredients, cover and lock the pressure cooker and bring to high pressure over high heat. Lower the heat to stabilize the pressure at high and cook for about 15 minutes.
Remove the pressure cooker from heat and release the pressure with a quick release method (for details, click Pressure Cooker Tutorial link below). Remove the cover and test beans for doneness. If necessary cover and return the pot to pressure and cook for another 5 minutes.
Remove the ham hock from the soup. Discard the skin and bones. Chop the remaining meat and add it back to the soup. Use a potato masher or the back of a large spoon to slightly mash the beans. You can also use an immersion blender, but be careful not to completely puree the soup - it should be thick and lumpy. Season with additional salt and pepper if necessary. Serve hot.