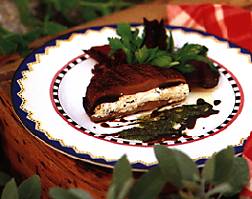 Recipe created by FabFood on

Jul 23, 2007
View more recipes by FabFood.
Prep: –
Cook Time: –
Total: –
Serving: –
Recipe for Grilled Portobello with Herb Sonoma Goat Cheese and Herb Garden Greens. This elegant salad or starter course is from Chef James Boyce.
Ingredients
Portobellos:
4 medium portabello mushrooms
2 cloves garlic, minced or pressed
1 shallot, minced
1 teaspoon chopped basil
1 teaspoon chopped Italian parsley
1 teaspoon chopped rosemary
1 teaspoon chopped thyme
1/4 pound goat cheese (preferably Sonoma)
1 tablespoon creme fraiche
1 tablespoon cream cheese
salt and pepper to taste
Salad:
1/4 cup olive oil
1/4 cup balsamic vinegar
2 cups baby greens or mesclun
Directions
Preparing the Portobella Mushrooms
Mix together half the oil, vinegar garlic, shallots and herbs. Remove stems from mushroom caps and marinate in this mixture for 30 minutes to one hour. Combine remaining herbs, garlic, goat cheese, crème fraiche and cream cheese. Place cheese mixture onto a cookie sheet sheet. Remove a mushroom cap from the marinade and season with salf and pepper. Grill mushroom until tender. Place cheese in a pre-heated 425°F oven and bake until soft.
Making the Salad Combine remaining olive oil and balsamic vinegar to make a vinaigrette. Add shallots in equal portions and toss with greens.
Finishing Remove cheese from cookie sheet and place 1/4 in the center of each serving plate. Place mushroom cap on top of cheese and top with a small portion of the salad.