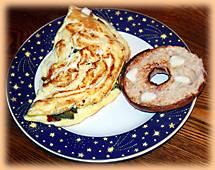 Recipe created by FabFood on

Jul 23, 2007
View more recipes by FabFood.
Prep: –
Cook Time: –
Total: –
Serving: –
Recipe for Portabella Mushroom Goat Cheese Omelette. What a delicious and decadent way to start the day! This recipe also works well for brunch or lunch.
Ingredients
1 portabello mushroom, diced
1 bell pepper (I like to use red or yellow pepper)
1 medium onion, diced
1/4 cup white wine
3 tablespoons butter
2 tablespoons basil, preferably fresh
6 eggs (3 for each omelette)
3 tablespoons goat cheese (1/2 for each omelette)
Directions
Sauté onions and peppers in butter for about 3 minutes. Add mushroom and continue cooking until vegetables are soft and tender (about 5 minutes). Set aside.
Beat 3 eggs with 1/4 cup water. Heat omelette pan till very hot. Melt a small amount of butter and pour in egg mixture. Use spatula to lift cooked egg from bottom of pan so that liquid eggs will set better (see photo). When eggs begin to set, place half vegetable mixture over 1/2 cooking eggs. Top vegetable mixture with 1/2 the goat cheese. Continue cooking until bottom is brown and eggs are set. Add 1/2 the basil just before carefully folding the half of eggs without the veggies, over the other half (see photos). Cook a few seconds more and remove omelette from pan onto serving plate. Repeat with second omelette.