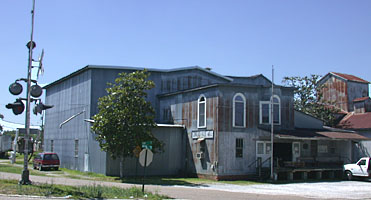 Recipe created by FabFood on

Jul 23, 2007
View more recipes by FabFood.
Prep: –
Cook Time: –
Total: –
Serving: –
Recipe for Pork or Shrimp Fried Rice. Use Konriko's unique aromatic Wild Pecan Rice for this tasty side dish or healthy main course.
Ingredients
1 box Konriko Wild Pecan aromatic rice
1/2 pound boneless pork cut into small cubes, or peeled medium shrimp
1 tablespoon soy sauce
2 teaspoons Asian sesame oil, divided
2 teaspoons Creole Seasoning, divided
2 larges cloves garlic, minced
1 tablespoon minced fresh ginger
3 eggs
3 tablespoons peanut oil, divided
3 green onions, thinly sliced
1 cup bean sprouts
1/2 cup frozen green peas
Directions
Cook rice according to package directions, omitting butter; spread in a shallow pan and chill well.
In a small bowl combine pork or shrimp, soy sauce, 1 teaspoon sesame oil, 1/2 teaspoon Creole seasoning, garlic and ginger; mix well and set aside.
In another bowl beat eggs with 1 teaspoon Creole seasoning and remaining 1 teaspoon sesame oil. Heat a wok or large skillet until hot over medium-high heat. Add 1 1/2 tablespoons peanut oil and swirl around wok till hot. Add pork mixture and stir-fry 3 to 4 minutes or until pork is done; remove from wok and set aside.
Add remaining 1 1/2 tablespoons peanut oil to wok and swirl in pan till hot. Add egg mixture and stir-fry 1 minute or until egg is done. Add cold rice and stir-fry 3 to 4 minutes. Add green onion, bean sprouts, peas (if desired), remaining 1 teaspoon Creole seasoning, and cooked pork or shrimp. Stir-fry 2 minutes longer and serve immediately.